"And though she be but little, she is fierce."
William Shakespeare's A Midsummer Night's Dream is a far cry from where I found myself this night, but I couldn't help the quote from ringing in my ears.
I am in the back of a black van trawling the streets of downtown Durban, one of South Africa's metropolitan cities, on an outreach expedition with Expose Hope thinking about a woman I had met earlier.
Expose Hope is an anti-sex trafficking NGO operating in the area. Their remit is to bring much-needed food and other resources to the men and women who have found themselves on the bottom rung of society's food chain.
The street-walking, drug-addicted zombie prostitutes that no one wants to acknowledge.
Why does Expose Hope do this? I ask Vashti, the founder. Because no one else will listen, and every one of these unfortunate creatures tells a very real and very devastating story.
Earlier, I had been watching a pint-sized prostitute sit on the floor of a broken-down inner-city brothel, telling me of her dreams. Her name was Lucia.
Lucia is new to the game. In fact, tonight is her first night, and she strikes an indelible chord with me. Not only is tonight her first night in this veritable hell hole, but she comes from a previously successful background garnering some notoriety for her singing voice in the music circles of South Africa.
How did she land up here? She met a man. The man of her dreams, she says. In the beginning, he was lavish with his affections but very soon, he turned abusive.
Alienating her from her family and friends, he tried to force her into drugs and prostitution until she ran away. Left with nothing and no family to turn to, she decided that if she were going to be a prostitute, at least it would be on her own terms and, for now, without the drugs.
So there she sat on the floor, curled up in front of me. Waiting for her first client for the night even though it is already late.
The brothel is one of the better ones in the area, although it is still a nightmarish place with a dingy rot that clings to everything around it. The going rate is $30 an hour, expensive when compared to the streetwalkers who charge as little as $3 for blowjobs and $7 for a fuck.
Unsheathed or raw is an extra $5.
Many tribal cultures in South Africa view condoms as an emasculating insult, so prostitution is practiced most often without any protection at all. It is no wonder that South Africa has one of the highest HIV rates of all the countries in the world.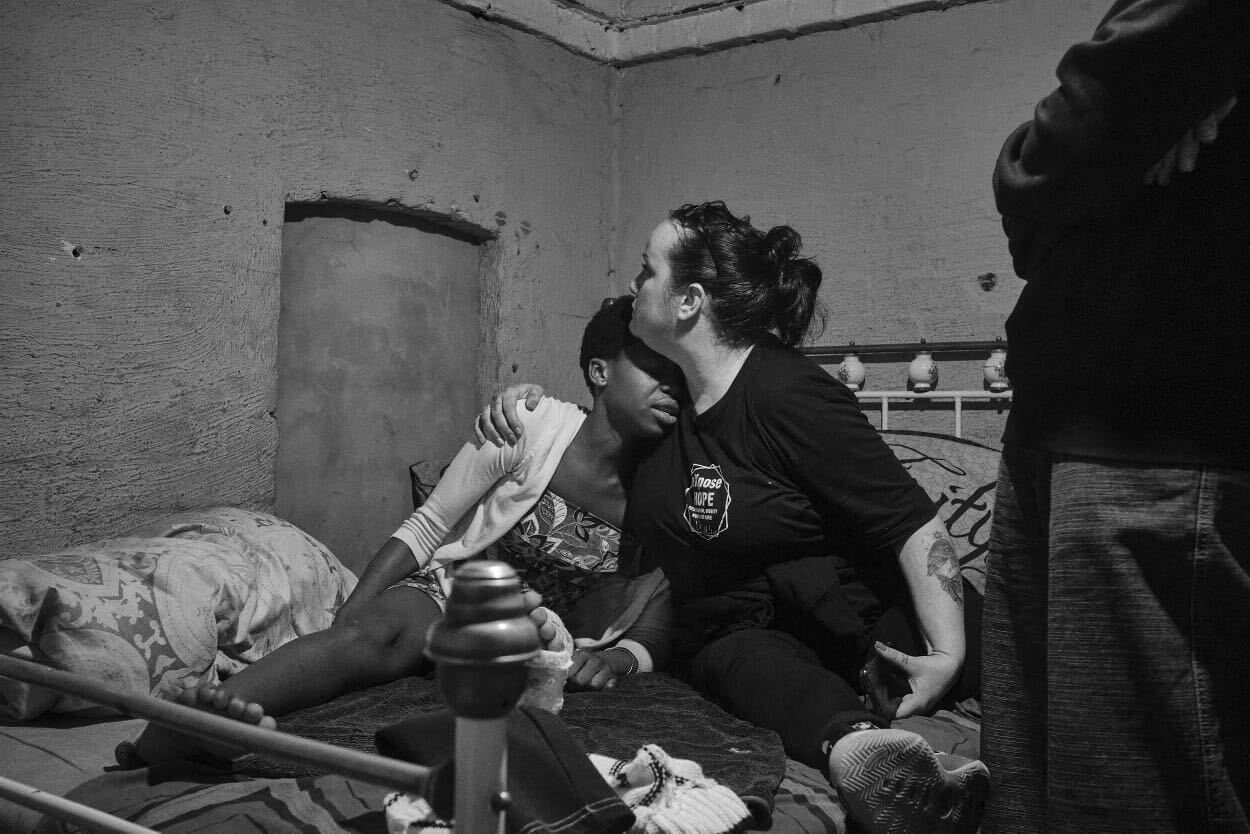 When Lucia speaks, it isn't with a resigned desolation as is the voice of so many of the women I have met tonight. Rather she is determined. She will earn what she needs to get out of her current situation and go and find her child, whom she has left with her mother, that wants nothing to do with her.
There is no anxious fidgeting, nervous stammering or wild-eyed fear on her face. She is calm and composed. Almost as if she was waiting for a friend to join her for a coffee rather than a man to trade her body for a few measly dollars.
She has no idea what she is getting herself into. The men who come here are not random Johns looking for a moment's respite in the arms of a comforting woman.
These men are hardened gangsters. These men are the sorts that operate on the fringe of an already violent society.
South Africa has consistently been voted one of the most dangerous countries in the world for many years in a row, and we are in the very heart of the core of where danger thrives. These men are monsters if the stories the other women tell are anything to go by.
But Lucia sits at my feet in all her innocence, telling me that she will spend one or two months max working in the industry and then she will go and find her son and take him somewhere safe where she will earn money doing hair and nails for the women in a suburb not very far from here.
As I get up to leave, Lucia stands up and picks up the book that she has been reading. I take the book from her hand and am touched. She is reading an epic Regency romance novel. Here in the middle of the squalor and stench of the world's most rotten core, there is a young prostitute that still believes in romance and fairy tales.
The night did not end there for us on the Expose Hope trail, but the experience of meeting tiny Lucia with her emphatic conviction that she just needed to earn a little bit of money for a brighter future left me feeling haunted.
Then again, every face I met that night left me feeling so.
Not long after meeting Lucia, we stopped by an emaciated figure who nonchalantly told us that she had just escaped an attempted rape. Ironic, as that night, we were handing out rape whistles along with condoms that will never be used.
As for the rape whistles, even if they were used, no one would come running. There is no assistance in this world of putrid pestilence on the darkest streets of an already ugly world.
Most of the women in this area landed up here because of a very sophisticated syndicate of gangsters who know what they are doing. They advertise glamorous jobs in the rural slums that are so much a part of everyday life in South Africa. Once the women scrape together the money to move to the cities, they find themselves chained in a never-ending cycle of drugs, abuse, and having to sell their bodies to earn their keep.
It is not only women you see on the streets. On this particular night, I saw a young boy, very underage, dressed in high heels and a mini skirt, wild-eyed and strung out on drugs plying his trade to passers-by in their expensive cars. In one of the brothels, there is a young Thai boy who came to South Africa looking for his parents, only to land up in the hands of one of the most brutal pimps of them all.
A few days later, I dropped off an old iPhone for Lucia. She did not have a phone, and I had one lying around, so I thought to give it to her. She was quiet but grateful. Something was just not the same. She had a bruise on her left cheek, and I am certain one of her teeth was chipped.
When I asked about it, she simply said, "Don't worry, I fought back".
I loaded my number on the phone and asked her to stay in touch, which she did. Every few days or so, I would get a message telling me that she was safe and had made a little bit of money, but most of it was going towards food.
One day the messages stopped, and her last seen on Whatsapp was like an eerie vacuum. A few days later, I received a Whatsapp from a guy calling himself Kieth. He said that he had bought a second-hand iPhone from someone, and it looked like the phone had been stolen as there were many pictures of a woman and, of course, conversations between myself and Lucia.
I offered to buy the phone back from him for a discounted price, and he was grateful. All he wanted was for the phone to go back to its rightful owner, he said. When I arranged to do the handover at the local police station, Keith blocked me, and I never heard from him again.
It is common for thieves in South Africa to contact the previous owners and arrange for a return under the auspice that they have found what had been stolen. Only, instead of a handover, you get roughed up and taken for everything else you may have on you at the time. If not murdered because that is the way of things in one of the murder capitals of the world.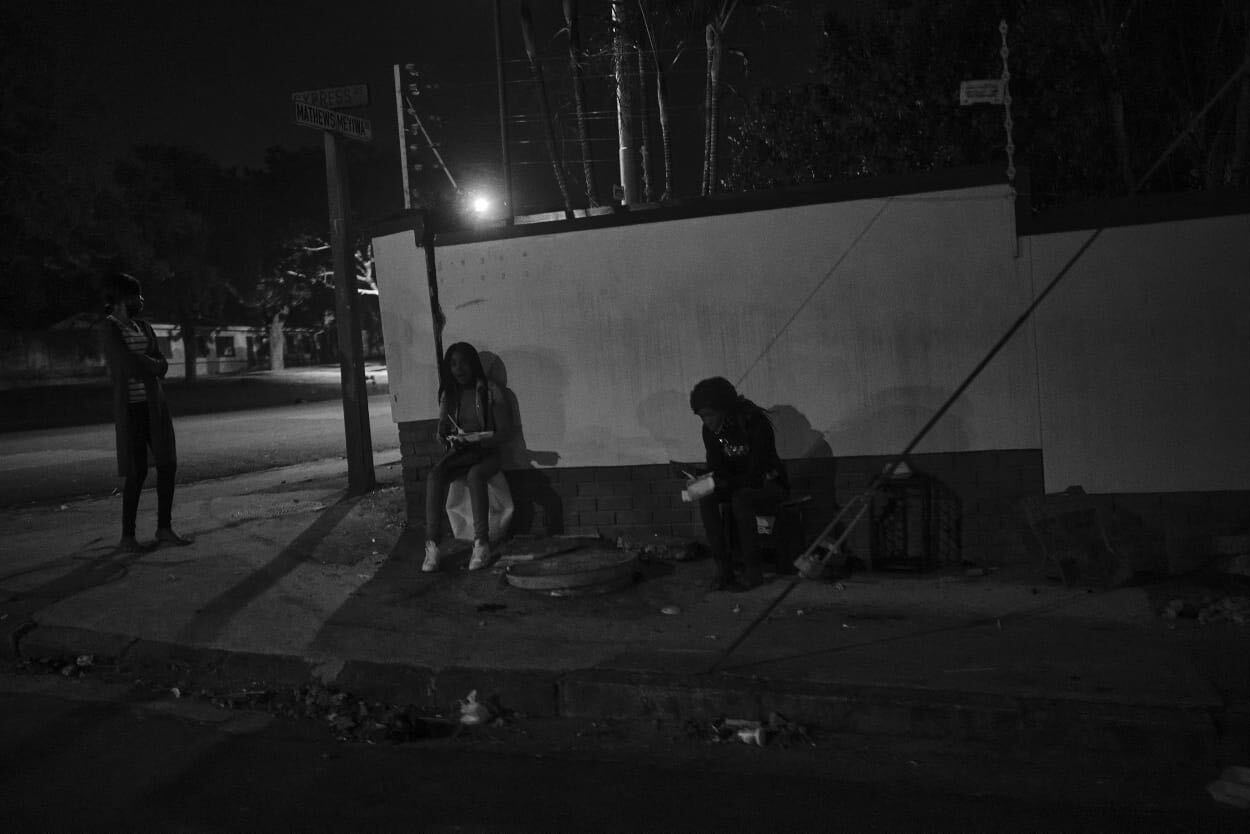 As I was close by, I went back to the brothel to see if Lucia was alright, as she had obviously experienced a mugging. Only when I arrived, the women of the brothel looked deeply uncomfortable. When I asked for Lucia, they said she had gone out onto the street to attract clients and had never come home.
The last time she was seen or heard from was identical to the last time stamp of her last seen on WhatsApp.
Lucia is a faceless, nameless statistic in a world where numbers mean nothing. A world where a seven-year-old iPhone has more value than a woman with hope in her heart just working for a break from the horror that she had found herself in.
I will never know what happened to Lucia, but her memory has left me quiet.
What happened to the girl who sat so elegantly composed at my feet reading about a handsome Duke who found his stowaway bride in the hull of his ship bound for the new world? The one who performed on national musical stages in her glittering finery for countless fans.
No one is looking for her, and when I went to the police station, they gave me a form to fill out and asked me, without meaning it, to let them know when she contacts me again. Perhaps it is because no one knew her real name. She was just Lucia, a moniker she chose to be her working name.
This story could be set in the favelas of Rio de Janeiro or the back streets of Detroit. There are countless Lucias in the world. But no story has touched me more than of the young girl who sat ambitiously at my feet, determined to make a better life for herself in spite of her circumstances.
So again, the A Midsummer Night's Dream quote comes to me. "Although she be but little, she is fierce".
Fierce is the memory that she has left behind.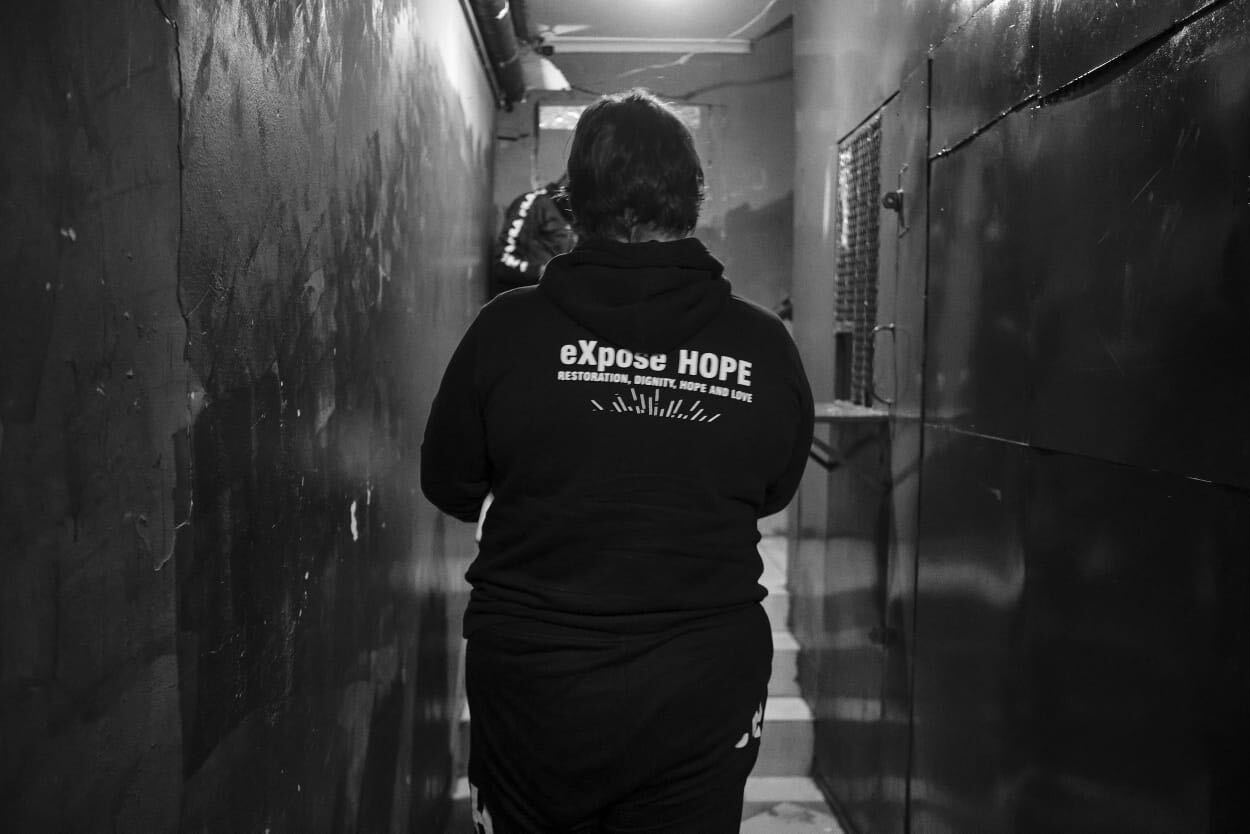 About Expose Hope
Expose Hope is an anti-sex trafficking NGO that operates in the Durban region of Kwa-Zulu Natal, South Africa. Their remit is to bring dignity and hope to the countless men and women who have found themselves slaves to the sex industry and victims of sex trafficking.
Through their work, Expose Hope aims to take as many victims out of the industry and restore their dignity by offering them counselling, rehabilitation and skills development so they may live abundantly and without shame.
Expose Hope relies on the generosity of its donors to bring hope to the people they look after. Should you wish to donate to this selfless cause, kindly click here.