key events
Show key events only
Please turn on JavaScript to use this feature
6th over: South Africa 9-1 (Erwee 5, de Bruyn 3) Three overs, three maidens for Captain Cummins. The ball's doing just enough in the air and off the seam to keep the Proteas second guessing.
Back to Elgar and his not very enigmatic variations.
5th over: South Africa 9-1 (Erwee 5, de Bruyn 3) South Africa have yet to settle in these tough conditions and Starc's ability to move the ball both ways (or the perception in the mind of the batter that he could) is playing havoc with shot selection. There's a big shout for leg before against de Bruyne but Paul Reiffel makes a good decision to turn it down for swinging too much.
"I know that in the past lots of cruelty was allowed, and much of it was considered public entertainment," Trevor Tutu emails, "but surely we live in better times than those? However cruel bear-baiting might have been, the friends family, relatives and compatriots of the bears were not forced to watch on TV and follow the proceedings on the OBO. I do not know how you aim to cheer me up from the gloom that has set in."
Trevor, instead of cheering yourself up from the gloom, mine your discomfort for enlightenment with the magnificent Don't Hug Me I'm Scared. It started life as a cult web series then recently transferred to a full TV series.
4th over: South Africa 4-1 (Erwee 1, de Bruyn 3) DROP! Warner shells a very tough chance at first slip low to his right. It looked a regulation edge from de Bruyn off the bat, but the seam stood proud and swung as it journeyed towards the cordon, in the manner we're familiar with from watching visiting wicket-keepers struggle in England. Cummins is bowling with great rhythm.
3rd over: South Africa 4-1 (Erwee 1, de Bruyn 3) Erwee gets his team on the board with a neat push, then Starc gets one to straighten up to the right-handed de Bruyn, the ball catching the shoulder of the bat on its way down to third for three. The natural variation of Starc's action is making both batters second guess their strokes, Erwee especially, first leaving tightly, then failing to commit to an uppercut. Very annoying.
2nd over: South Africa 0-1 (Erwee 0, de Bruyn 0) This is grim from South Africa. In the gloom Cummins pins de Bruyn on the crease with a ball that jags in sharply to a batter not offering a stroke. The LBW appeal is declined and Cummins opts not to review, probably on height. Australia are bullish. The next couple of hours do not bode well for the tourists.
Dean Elgar's series so far: two gloved down the leg side, one self-inflicted run out, one lbw that was umpire's call for height. #AusvSA
— Geoff Lemon Sport (@GeoffLemonSport) December 28, 2022
wicket! Elgar c Carey b Cummins 0 (South Africa 0-1)
dear That is disastrous for South Africa. Dean Elgar gloves his third delivery from Pat Cummins down the legside and Alex Carey completes a smart catch. The South African skipper is enduring a miserable tour.
Australia are adamant Pat Cummins has Dean Elgar caught down the legside. The umpires have sent the decision upstairs, the soft signal is out…
1st over: South Africa 0-0 (Erwee 0, Elgar 0) Starc shows no signs of discomfort as he bounds in over the wicket and hits a lovely line and length, shaping the first three deliveries away from the left-handed Erwee. The next couple leaks down the legside before a sighter outside off completes the maiden.
There was a curio at the start of the innings as Australia were instructed to remove the sub fielder who took the field in place of Cameron Green. He was not one of the designated substitutes, so Marcus Harris had to come on in his place. Of course, JB immediately brings up Gary Pratt within the earshot of Ricky Ponting.
Sarel Erwee is at the crease, Dean Elgar at the non-striker's end. The floodlights are casting shadows across the pitch as the MCG is shrouded in dark clouds. This is not going to be a fun couple of hours for the Proteas.
Updated at 11:46 PM EST
And he briskly moves to the top of his mark as the players stride out for the final session of the day. His bowling hand is not taped. He is good to go, for now at least.
Mitchell Starc is out warming up between innings, putting his mallet finger through his paces.
It's on the longlist, but nowhere close to England's 702 run advantage over Australia at The Oval in 1938.
Tea on day three
The change of innings also heralds tea.
Australia declares on 575-8 (a lead of 386)
Starc's helmet change prompts Pat Cummins to bring his players into the pavilion. A superb innings from Australia, led by David Warner's double-century and Alex Carey's record breaking 111.
Can South Africa compete for seven sessions and save the match?
145th over: Australia 575-8 (Green 51, Starc 10) A hold up in play while Starc gets his helmet changed after being sconed by a Jansen bouncer that was too quick for the attempted hook. There's a suggestion on Channel Seven that Australia wouldn't mind Starc failing a concussion test so that they could legitimately substitute the paceman out of the game. We already know his broken finger will make it difficult for him to contribute in South Africa's second innings.
Meanwhile…
144th over: Australia 573-8 (Green 50, Starc 9) Australia have now eased into the all-time top-ten innings hauls at the MCG, but they're not finished yet. Starc brings the crowd to life by hooking a Nortje bouncer over the fine-leg fence for six!
Updated at 11:27 PM EST
50 to Cameron Green (172 balls)
143rd over: Australia 564-8 (Green 50, Starc 0) The darkness hath birthed drizzle, but play continues, allowing Cameron Green to rock back and uppercut Jansen over point for a thrilling four to complete a not-so thrilling half-century. It might not have been brisk, but it has shown the character of the man, playing with a damaged finger. Combined with his first-innings five-for, this has been a coming-of-age match for the young all-rounder.
Updated at 23.13 EST
142nd over: Australia 560-8 (Green 46, Starc 0) As the sky darkens over the MCG and the floodlights take full effect South Africa recalls Anrich Nortje to the attack to pepper this pair's damaged hands. Green handles him with aplomb and Starc isn't forced to play.
"Sitting here writing my novel while the cricket is on," emails Don Linke. "I was casting about for some outrageous character names. How about Cameron Green as a dashing hero, and Theunis de Bruyn as the wicked villain and Anrich Nortje as his nefarious sidekick. Playing SA is the gift that just keeps giving. Maybe you have some others for me?"
Colin de Grandhomme could be a puffed up nobleman who doesn't realize he's been cuckolded; Roston Chase the cad doing the dirty.
Updated at 23.14 EST
141st over: Australia 557-8 (Green 42, Starc 0) Australia now have two batters at the crease with dodgy digits. Starc's gloves are immediately targeted, and after a back-foot defensive stroke he removes his protection and grimaces.
Updated at 23.14 EST
wicket! Carey c&b Jansen 111 (Australia 557-8)
Alex Carey receives a standing ovation as he heads down the race at the MCG with the highest test score by an Australian wicket-keeper at the venue. He has to leave after skying a return catch to Marco Jansen. He was caught between a pull and a leave and managed only to loop an awkward leading edge back to the bowler.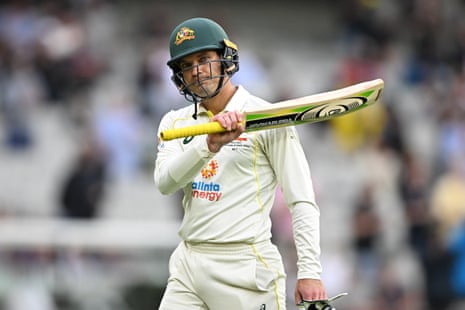 Photographer: James Ross/AAP
Updated at 11:45 PM EST
140th over: Australia 555-7 (Carey 110, Green 42) Five easily accumulated runs from Maharaj's 42nd wicketless over.
139th over: Australia 550-7 (Carey 107, Green 40) Carey pulls Jansen for an early single. Green defends or leaves five further deliveries.
Here's some niche AFL cricket overlap content. For those who don't know, Alex Carey used to play professional Australian Football for the GWS Giants.
Alex Carey (106*) now has a higher score than GWS has ever managed at the MCG (103)
— Ethan (@ethanmeldrum_) December 28, 2022
138th over: Australia 549-7 (Carey 106, Green 40) Carey has reverse-swept Maharaj well all innings and he executes the stroke again for a couple of runs. We are now deep into #DeclarationSpeculation. The game has drifted somewhat since Carey's tone.
137th over: Australia 546-7 (Carey 103, Green 40) A rare boundary for Green, nicking Jansen with soft hands through gully.
Some Carey stats for you:
– First century by an Australian WK since Brad Haddin in 2013.
– Carey just the seventh Australian WK to ever score a ton.
– Of the 32 Test centuries by Australian WKs, 17 were by Adam Gilchrist.
136th over: Australia 542-7 (Carey 103, Green 36) Green dabs away another Maharaj maiden. Australia must now only be playing for time, otherwise it's hard to understand why Green is still out there.
135th over: Australia 541-7 (Carey 102, Green 36) A single piece from Jansen's latest over. Both batters have now faced at least 137 balls. Carey is striking at three times Green's rate.
It's overcast, but the rain radar is clear for a significant distance around the MCG. There might be a light sprinkle at some point, but there's no significant band of rain nearby.
134th over: Australia 539-7 (Carey 101, Green 35) I was expecting some tonk now that Carey has scaled his Everest, but Green has really labored this innings and he again plays conservatively against Maharaj, dabbing away a maiden.
Johnny Gavigan "can't understand why Australia are batting on. Green is just aggravating his finger injury. Utter madness!". Perhaps, but with Green and Starc possibly out of the attack, they don't want to heap too much work on the three fit bowlers, especially with so much time left in the match.
133rd over: Australia 539-7 (Carey 101, Green 35) Marco Jansen was brought on after drinks and Carey initially played and missed outside his off stump before driving a similar delivery through the covers for three. The centurion, and his batting partner, beamed all 66 yards as the crowd stood in applause. Lovely moment for Australian cricket.
100 to Alex Carey (133 balls)
Alex Carey joins Rod Marsh as the only Australian wicket-keepers to make Test centuries at the MCG. That's Carey's maiden Test sound in his 14th Test.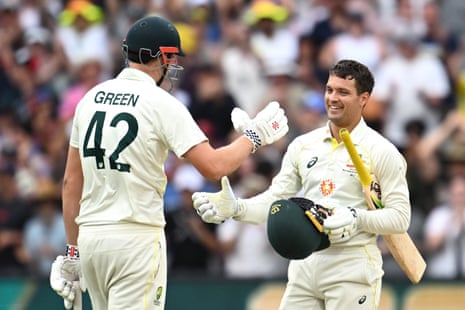 Photographer: Joel Carrett/AAP
Updated at 10:42 PM EST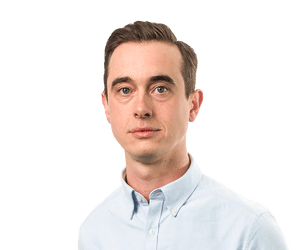 Jonathan Howcroft
Thanks GL It's great to be with you all this arvo, especially you fellas: JB, BJ, JL, June, Terry, Tubs, Sylvain Sylvain, and all the other ripper blokes at this mighty colosseum, the home of sport in the whole bloody world if you ask me How good!? Leg speed, just quietly.
That's actually harder to keep up than it looks. I don't know how they all manage it for so long.
I may have had too much hot sauce during lunch. Keep me sane by sending me an email, or, if you haven't yet abandoned the big bird app, tweet me @JPHowcroft.