This was a love story we have been waiting to tell for a year. Bettina Looney, personal stylist, tastemaker, and brand ambassador, wed Carlos Segovia in South Africa in February 2020, right before the pandemic and its subsequent lockdowns put the world on pause. Per Bettina's personal style, the Segovias' wedding became an Instagram source of inspiration to brides worldwide who spent the year planning, postponing, and replanning their weddings locally and abroad. In honor of Bettina and Carlos's one-year anniversary, Bettina shared their story—and all the decor, details, fashion moments, and photos of their four-day affair—exclusively with BAZAAR Bride.
For years, Bettina Looney and Carlos Segovia were ships passing in the night. The two grew up in Florida; she in Ocala, he in Miami. They then attended the same university, and had intertwined social circles and multiple mutual friends—before finally meeting in London. "There were so many moments where we could have run into each other, but we happened to miss one another until the universe decided it was time," Bettina tells BAZAAR Bride. The two had connected over Facebook Messenger ("when that was a thing"), and he invited her to his home for a dinner party, where they met for the first time. "I remember feeling as if we had known each other our entire lives," she recalls. "We actually both said it out loud to one another … we had mutual feelings of ease and familiarity, but I don't think either of us knew what was in store."
La Dichosa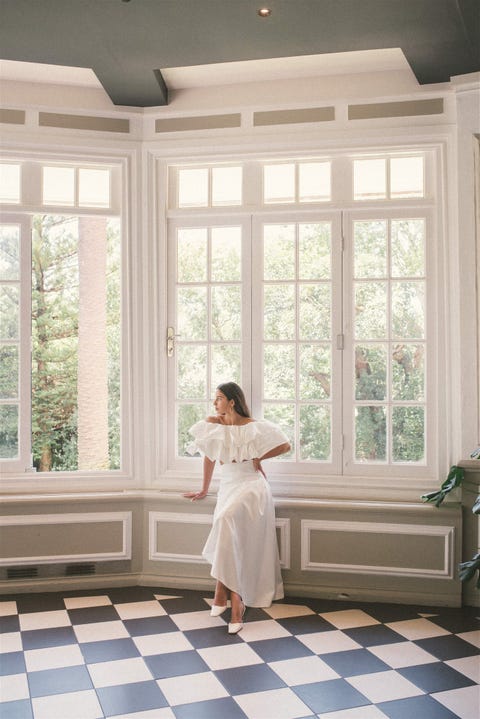 La Dichosa
Their first meeting may have been long awaited, but their first date was happenstance. The two meant to go to dinner with a few of Carlos's friends, but when said friends all canceled at the last minute, the pair decided to go on their own. Halfway through the meal, Bettina realized it was more than a friendly affair. "I swiftly went to the bathroom to freshen up, put on lipstick, and came back to enjoy an amazing evening—the first of many! We have been inseparable ever since," Bettina says. She remembers that falling in love with Carlos happened quickly and effortlessly. "He was my person from the very first day we met."
After six months of dating, they moved in together. "I had to return to the States three months into our relationship for visa issues and was planning on moving back to London and into a flat with a girlfriend of mine," Bettina recalls. "I think Carlos spent all the time I was away convincing me of all the reasons I should move in with him. I remember coming back to London so nervous, starting a brand-new job, and moving in with someone who I was falling for but really had not spent that much time with. Let's just say it was the best decision I've ever made."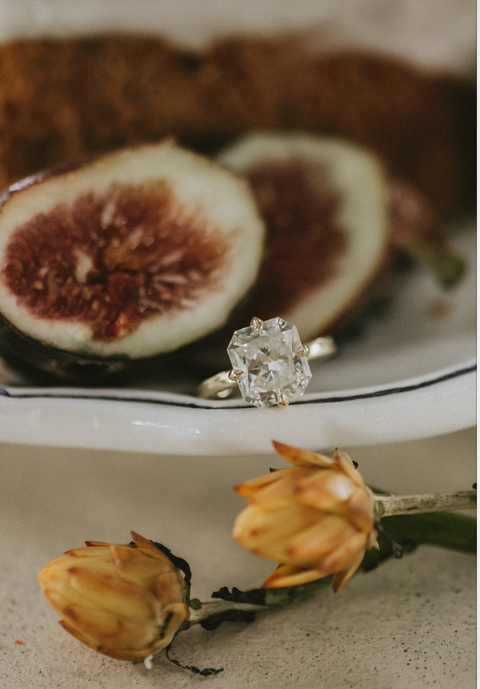 Mahal Imagery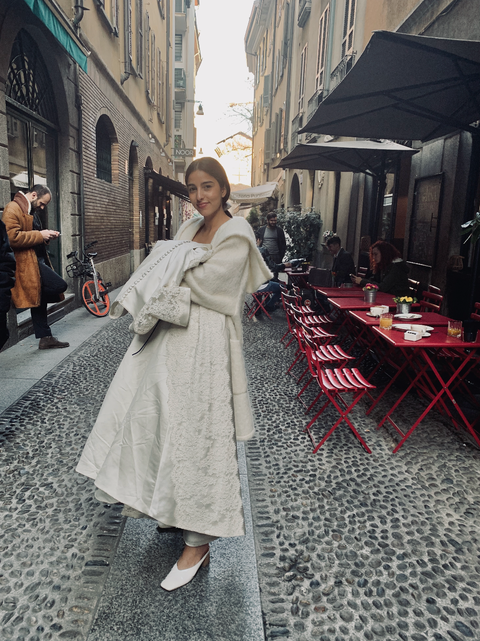 Courtesy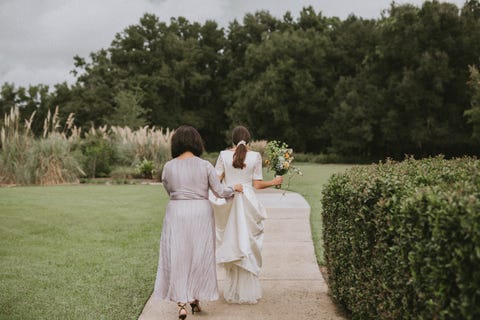 Mahal Imagery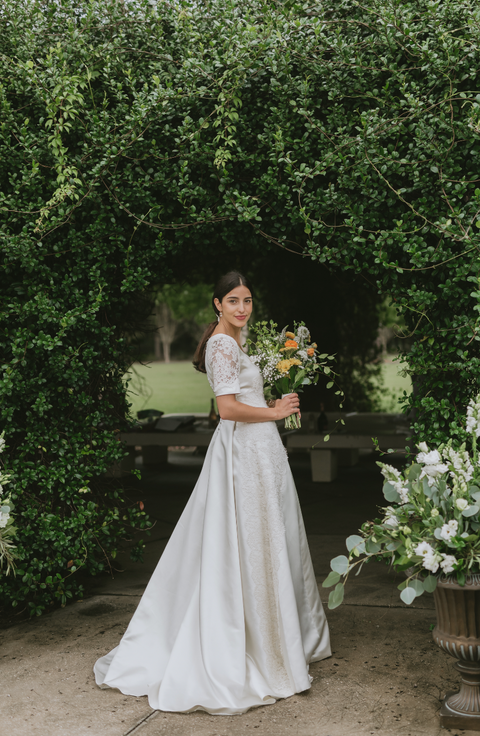 Mahal Imagery
The couple took their first weekend trip together to Babington House in Somerset, where Bettina shares she officially fell in love with Carlos. The two had drinks at a hotel nearby, and decided to walk back. Bettina was in "impractical" heels, so, "He took off his shoes, gave them to me, and walked the entire way in his socks. I just remember thinking that he was the most attractive man for doing that." After the weekend, the two sent a photo of them seated at the hotel restaurant to their parents. "They both said individually that it was when they knew their children had found their forever partners," Bettina gushes.
Five years later, Carlos planned a trip back to Babington with Bettina and his cousins from Spain. Upon arrival, the hotel informed them that their room wasn't quite ready and ushered them to a table in the restaurant to enjoy a glass of champagne—the same table they had taken that photo at years prior. Bettina was so moved by the coincidence that she took matters into her own hands. "I said to Carlos, 'What if we don't do things the conventional way? Why can't I just ask you to marry me? We're at the same table where it all began five years ago, so happy and in love, let's just do it!' Carlos looked at me with a blank face. He had an entire proposal planned just 30 minutes later!" A walk on the hotel's grounds ended with a pop into the hotel's on-site chapel. The aisle was lit with candles, and the two walked toward the altar together, where Carlos got on one knee and proposed. "We both were crying and got down on our knees. It was safe to say that it was a very mutual engagement," Bettina says. It was then she realized that Carlos's cousins would not be joining them. "We checked into the honeymoon suite, drank dirty martinis all night, and had a full-on dance party! It was the most spectacular day and night of my life."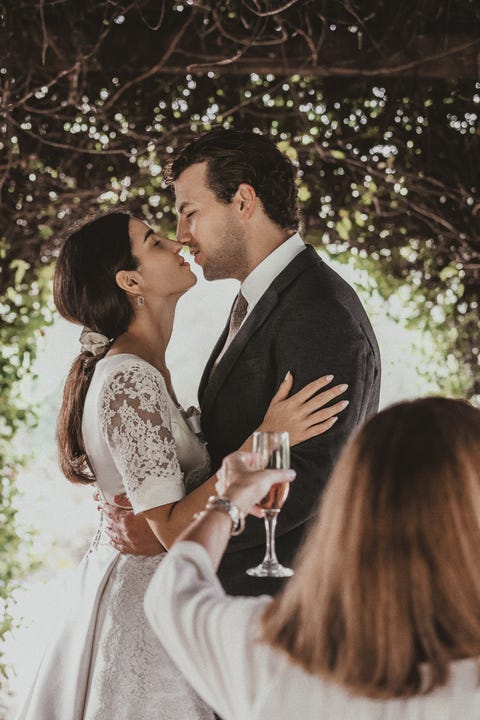 Mahal Imagery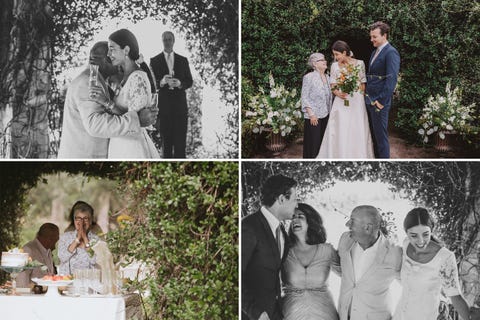 Mahal Imagery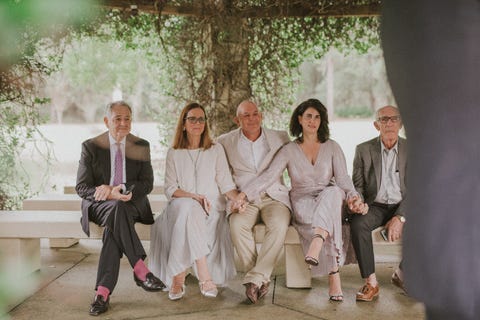 Mahal Imagery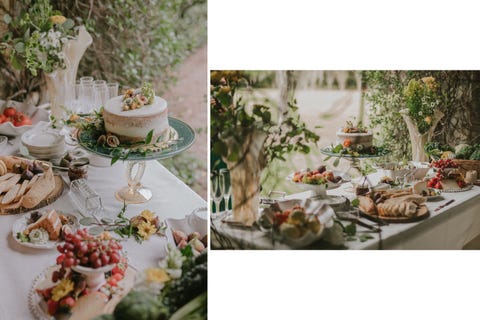 Mahal Imagery
Carlos proposed to Bettina with a radiant-cut solitaire ring set with vintage prongs in a gold band, designed in collaboration with friend and designer Tania Shayan of SHAY Jewelry. The two went to great lengths to achieve the design, with Carlos sourcing the diamond in Hong Kong, picking it up in Antwerp, and passing it off for the setting to be created in Los Angeles. As a special touch, the gold band of the ring was lined with pavé diamonds and an emerald was set inside the setting, as a nod to the bride's favorite color.
The couple always knew that they'd wed in South Africa. The country started as a special place for Carlos, and Bettina grew to love it just as much. "[Carlos] has always been moved by both the physical beauty of the landscape and the beauty of the people," says Bettina. "He went there for the first time while in university for an internship, and it was what launched his career. We then went together several years later for a wedding, and I fell equally in love. We both agreed that when we were to get married, we would love to do it there."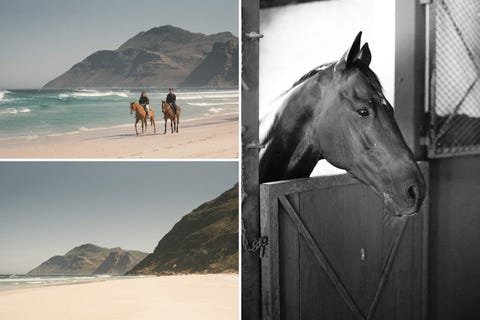 La Dichosa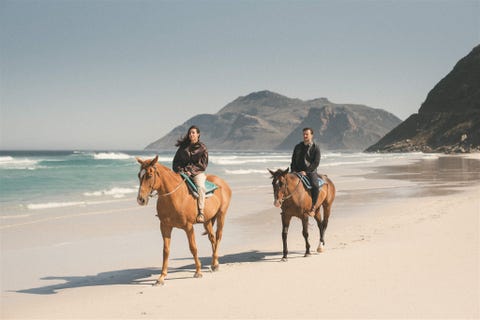 La Dichosa
La Dichosa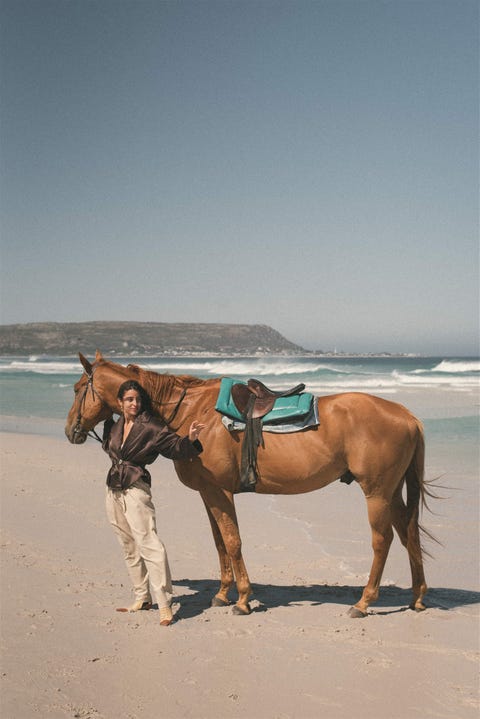 La Dichosa
Enlisting Anne Mann, who planned their friends' wedding, the pair worked to bring their dreams to reality. "Anne took us everywhere and showed us everything. It was definitely a lot of work, but the outcome surpassed all of our dreams and more and she has become so dear to our hearts," Bettina says of teaming with Anne and her company, Anne Mann Celebrates.
Together, they planned a four-day wedding weekend, intending to show their guests, all of whom were traveling in, everything they loved about the landscape, hotels, food, and culture of South Africa. Prior to the festivities abroad, it was important to the couple to celebrate their union with Bettina's grandmother, who, at the time, was battling ovarian cancer. The two wed in a civil ceremony at Sholom Park in Ocala, officiated by Bettina's childhood pastor, Dwayne Brigman. Bettina wore a vintage wedding dress she found in Milan at her favorite vintage shop, Il Cameo, paired with Jimmy Choo shoes.
"Carlos and I always made a promise that we would make sure to get married in the presence of my grandmother with her blessing," says Bettina. "She was a remarkable woman and loved her family more than anything. On October 26, one year after Carlos proposed, we got [married]. … I will cherish the smile on her face for the rest of my life." The guest list was small and intimate, just the couple's parents and Bettina's grandmother, along with her grandfather and his wife. "We never knew that a year and a half later, my step-grandmother would pass away from COVID. To also be able to share this moment with the two of them is a gift we will always hold on to."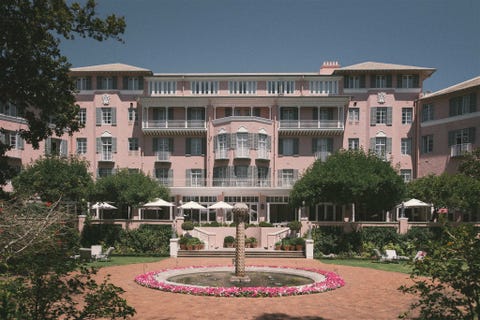 La Dichosa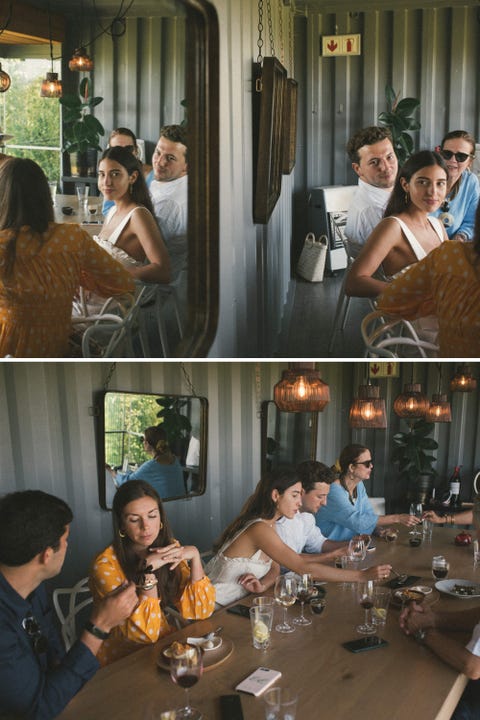 La Dichosa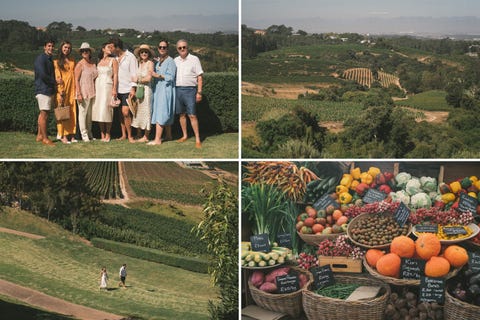 La Dichosa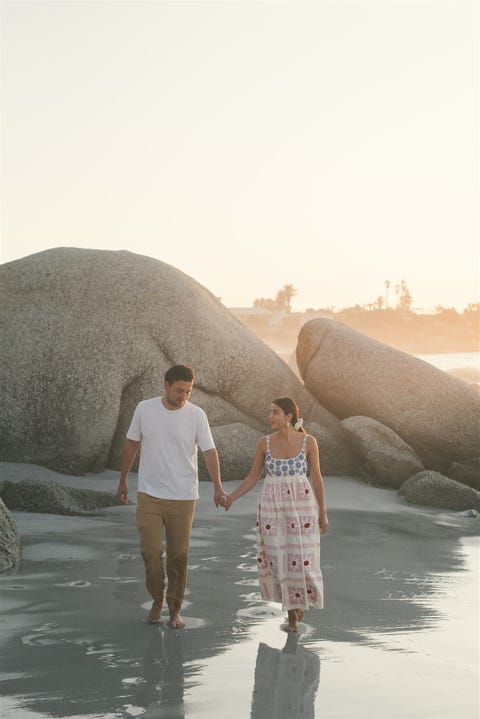 La Dichosa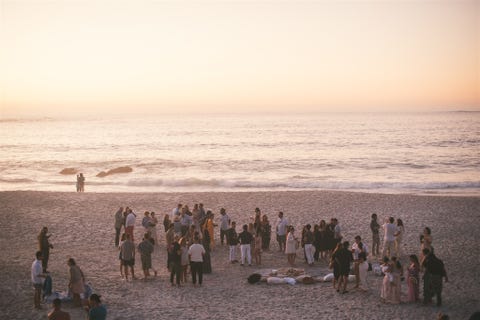 La Dichosa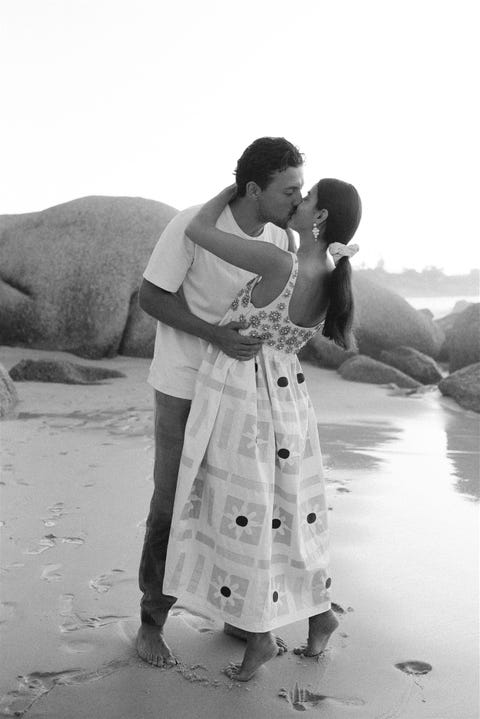 La Dichosa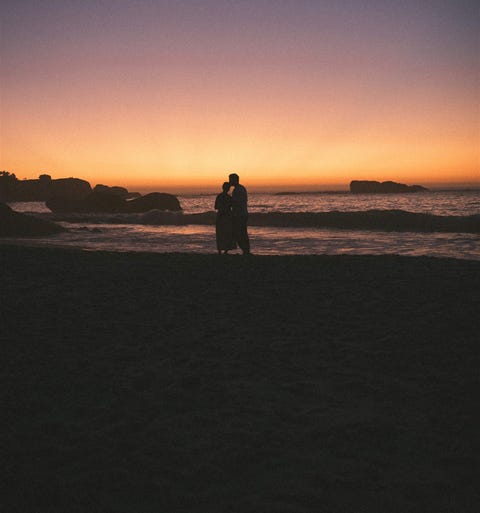 La Dichosa
After their intimate wedding in the States, Bettina and Carlos were ready for their nuptials in South Africa. They checked in to the Belmond Mount Nelson Hotel—"It's one of our favorite places in Cape Town," Bettina says. "The pink cape Dutch hotel has an old-school Hollywood feel, and the pool is on a sprawling lawn in the middle of a beautiful wildflower garden full of roses and butterflies fluttering around you."
The day before their guests' arrival, the couple took a horseback ride on the beach at The Dunes. Having grown up with horses, Bettina saw it as the perfect opportunity for the duo to enjoy one another and get centered before four days of nonstop parties. "I wanted to start off the week with a ride on the beach, relaxing and having a moment to breathe and process everything that was about to take place," says Bettina. "It truly was the best start to our week." For the ride, Bettina donned an outfit by Eudon Choi, paired with a jacket by Nanushka and shoes by Manu Atelier. The horseback ride was followed by two informal gatherings for guests as they arrived in town, including dinner at The Duchess of Wisbeach, a restaurant that turns into a dance party after hours.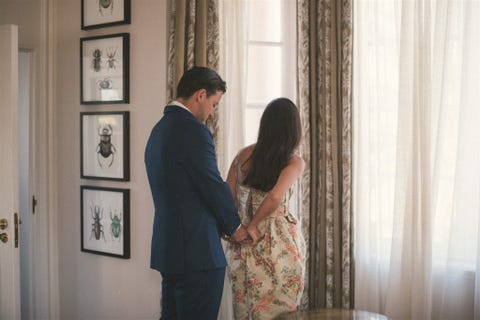 La Dichosa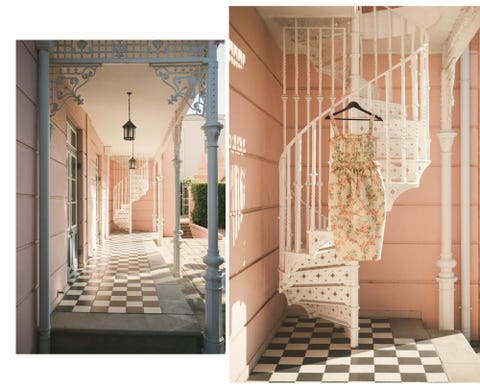 La Dichosa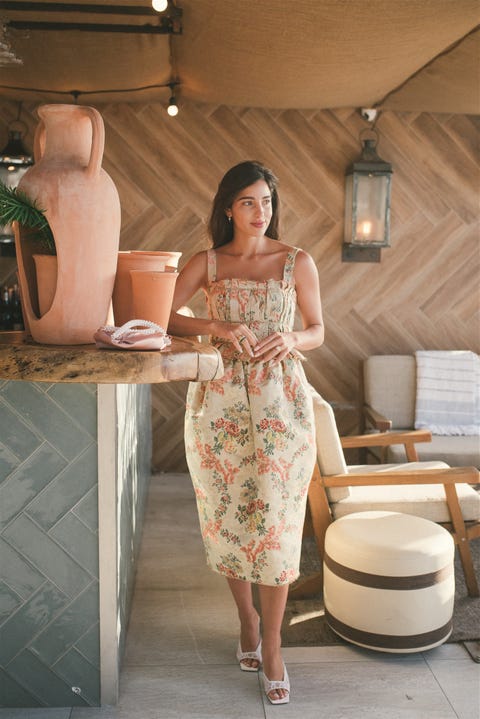 La Dichosa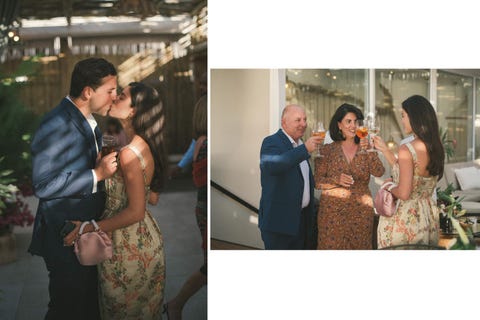 La Dichosa
Upon arrival, guests were welcomed to their rooms with a gift by Design Afrika, which specializes in ethically made and sourced African woven baskets, all with the aim of supporting local women and communities. Carlos and Bettina opted for the Winnie Bag, woven by Zimbabwean women, and filled it with a program of events by City Print Sea Point with illustrations by Janine du Plessis, personalized phone cases by The Daily Edited, Atelier des Femmes hand-sewn scrunchies, hangover kits, local snacks, and upcycled organic lavender sachets by Juditha Sakinofsky.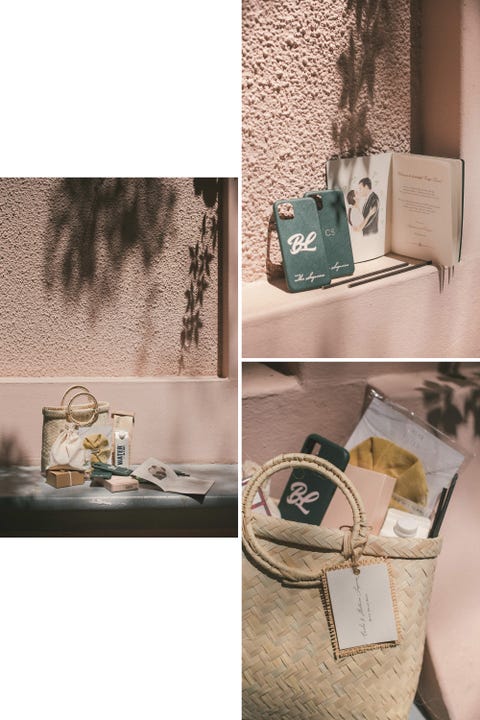 La Dichosa
The couple's first official wedding event was at Chinchilla, a beautiful rooftop bar right on the Camps Bay Promenade. "The sunset from the venue is spectacular, and the interiors are relaxed and stylish," Bettina says. Renting the space exclusively, they decorated with vegetable installations and displays in lieu of flowers. "We welcomed our guests to a weekend full of fun with great canapés and incredible cocktails," she explains. For the event, Bettina donned a Brock Collection dress, paired with Wandler shoes, a 0711 handbag, and earrings by her engagement ring designer, SHAY.
The next day, the two welcomed their guests to a braai, an African barbecue, at the Dylan Lewis Sculpture Garden. The breathtaking venue was meaningful to the couple, who both love the artist's work and the space itself. "When Anne took us to [Dylan Lewis's] private garden, which took 10 years to create with all of his sculptures sprawled underneath the dramatic Stellenbosch mountains, I was so emotional," Bettina recalls. "I couldn't believe we were standing in this picturesque garden of such a fabulous artist whom we had loved for so long, and now planning one of our wedding events. It was definitely a pinch-me moment."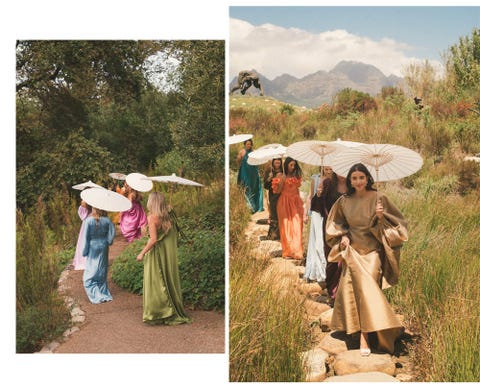 La Dichosa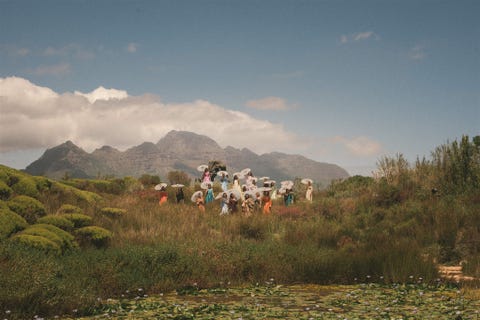 La Dichosa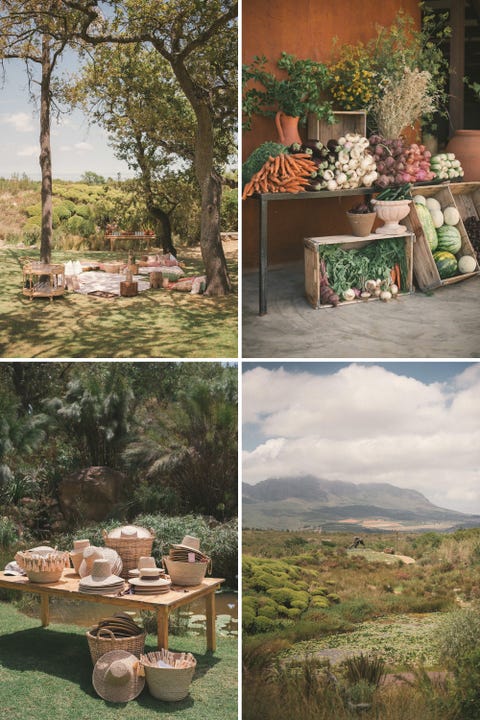 La Dichosa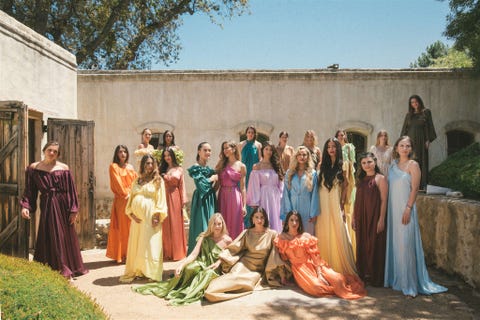 La Dichosa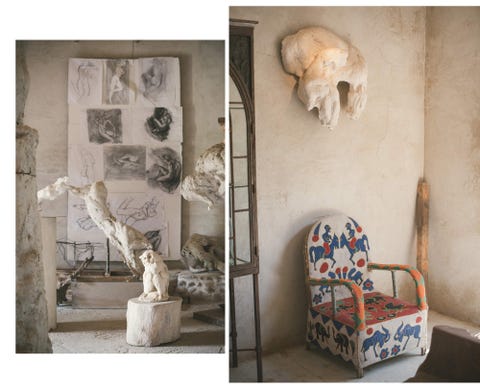 La Dichosa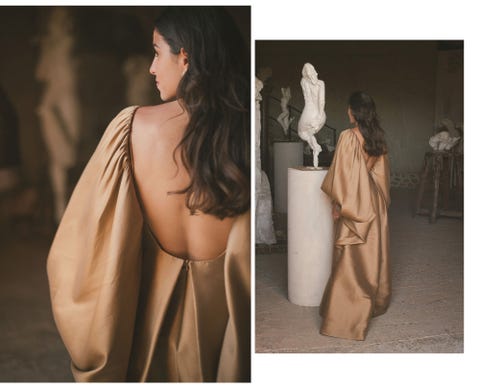 La Dichosa
Bettina and her bridesmaids arrived a bit early to take photos with photographers La Dichosa in the otherworldly garden. The Spain-based photo team were tapped alongside videographers Les Vaques and stylist Daniel Obasi. "Daniel is from Nigeria and came to give all of our photos a bit more of a stylistic approach," Bettina says. "He had never done a wedding before, but we thought the mixture of these creatives and their specialties could really create magic." And that they did—Bettina wore a sculptural Alberta Ferretti gown with an open back to contrast the architecture of the venue. She paired the dress with Old Celine earrings, Maxine shoes, and a Benedetta Bruzziches clutch. Her bridesmaids all wore Tongoro, designed by Sarah Diouf, with whom Bettina has collaborated for years. "I was always in awe of her brand and the ethical approach she was taking in the fashion industry," Bettina says of Diouf. "It was such an honor to be able to have all of the girls in her creations, and she went above and beyond."
After photos, "We greeted our guests with a marimba band, had relaxed lounging stations spread out throughout all the lawns," Bettina says. "There were games, a natural wine bar, a hat and fan table, and music provided by the talented Rus Nerwich."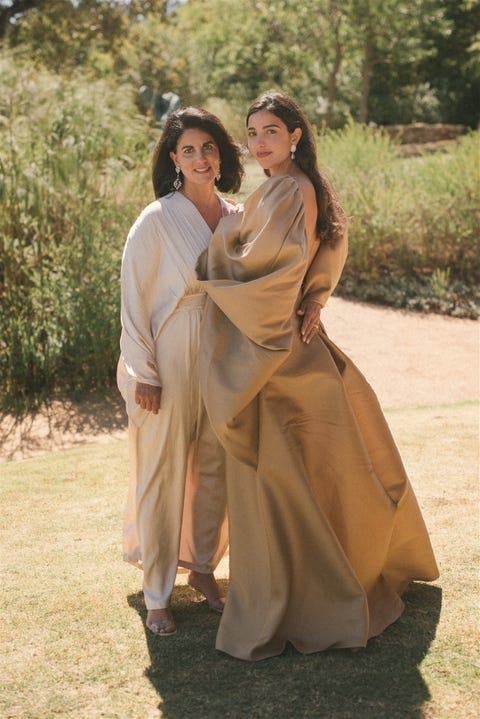 La Dichosa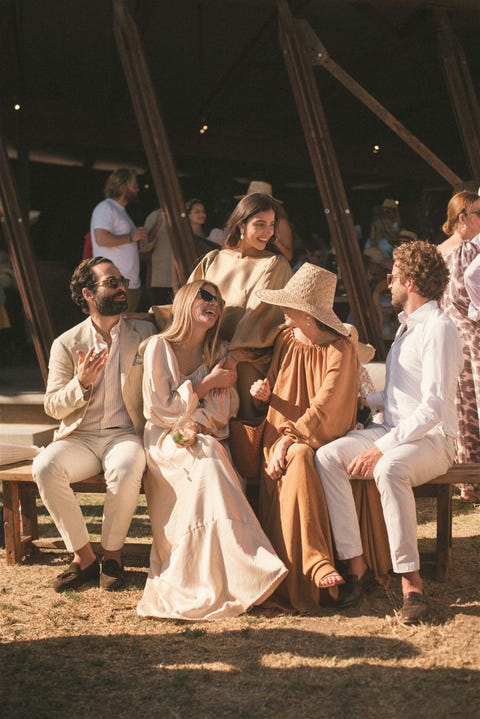 La Dichosa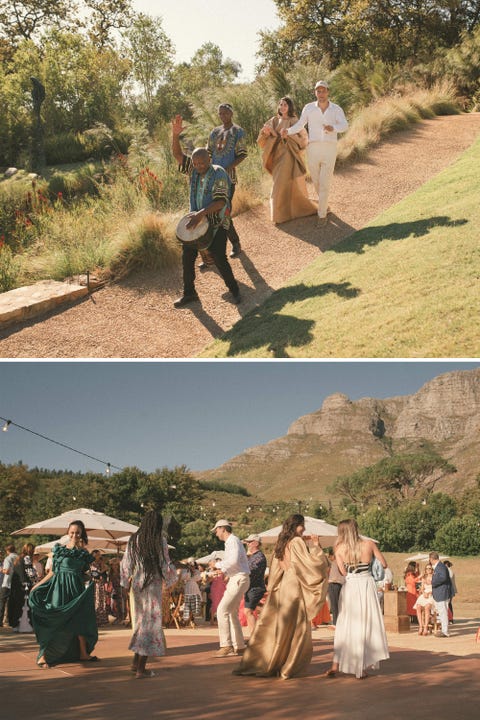 La Dichosa
Guests arrived at a veritable vegetable market "with huge terra-cotta pots, a pavilion filled with lemon trees, terra-cotta urns filled with fruits and spreads, and rattan plinths with floral installations," describes the bride. "Our inspiration behind the vegetables was to make sure that all of the installations could be repurposed and for local families in need within the community." After the wedding, Oliver, a chef and friend of the couple who catered the event along with Annalize Catering, used the produce to make soup, sandwiches, and more for families within one of the local townships.
The day ended with a walk through the property to a dance floor and lounge area positioned for the best sunset views. "Anne had the entire walk lit up with fairy lights," Bettina describes. "Everyone gathered around to watch and wave goodbye to the sun and danced until the late hours of the evening."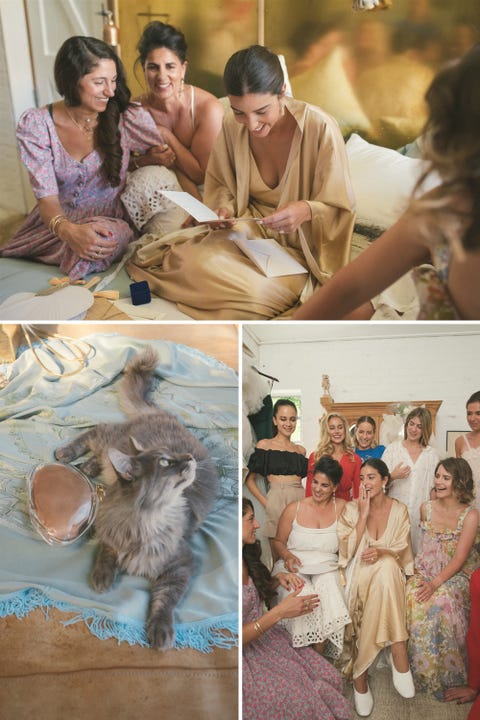 La Dichosa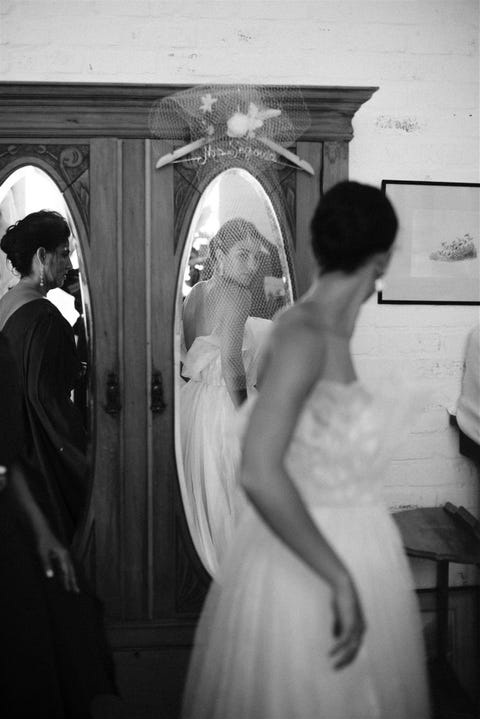 La Dichosa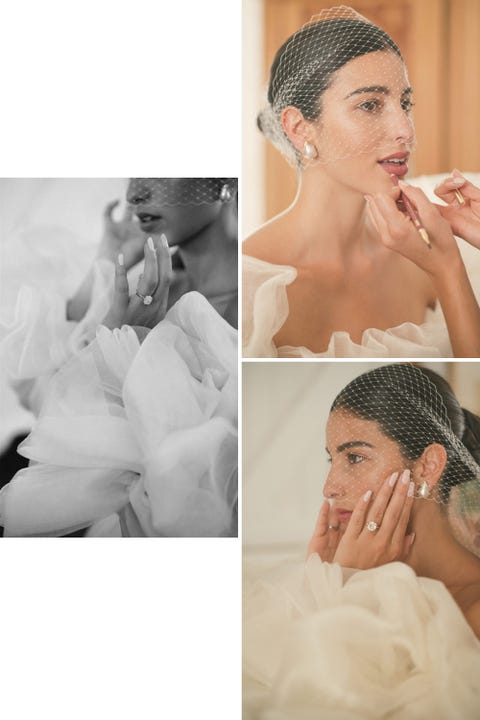 La Dichosa
The next day, the couple got ready at Johannesdal, a high-design home and flower farm. "I had fallen completely in love with [the] property. … It's essentially a working flower farm, but with interiors like you have never seen. Every corner in the home is beyond incredible and has so much thought and aesthetic detail," Bettina says.
The property's capacity was too small for the couple's guest list, but they were conveniently constructing a venue next door, Johannesdal 1207. "We had the idea that all of our guests could walk through Johannesdal's interiors and have a reception in the lawn, and then walk over to the adjacent property for the reception. We loved the idea of us getting married in the home my family was staying in, and then walking next door to the venue where Carlos' family were staying. It felt traditional," says the bride. And she had the perfect team to execute it: "Count on Anne to take on our vision and completely bring it life in a way we never thought was possible!"
Getting ready that morning, "I felt so relaxed and so peaceful," Bettina recalls. "The love that was around [and between] us was experienced on a level that I could never have imagined. Getting ready with my mother and mother-in-law; all of my closest girlfriends; Massimo (Spazzoli) and Rachel (Singer Clark), my hair and makeup team; my father and brother popping in and out. … The music was going, we were dancing, drinking wine, and then we all cuddled in bed to open the card and gift Carlos had given me. Throughout the entire week and weekend, I was never nervous until it came time to put on my dress."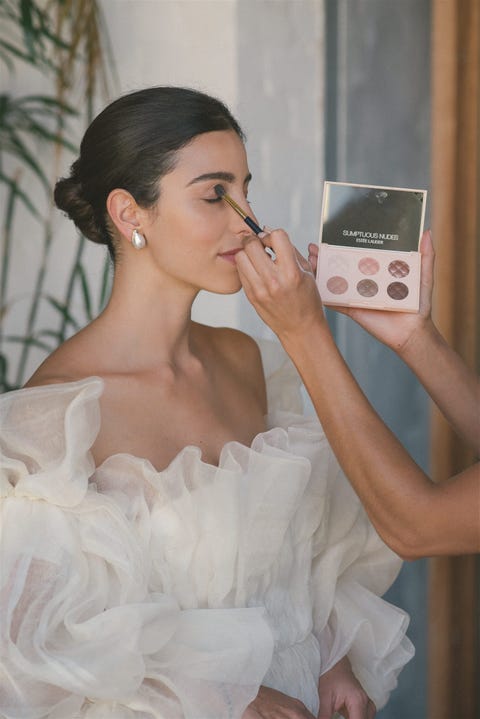 La Dichosa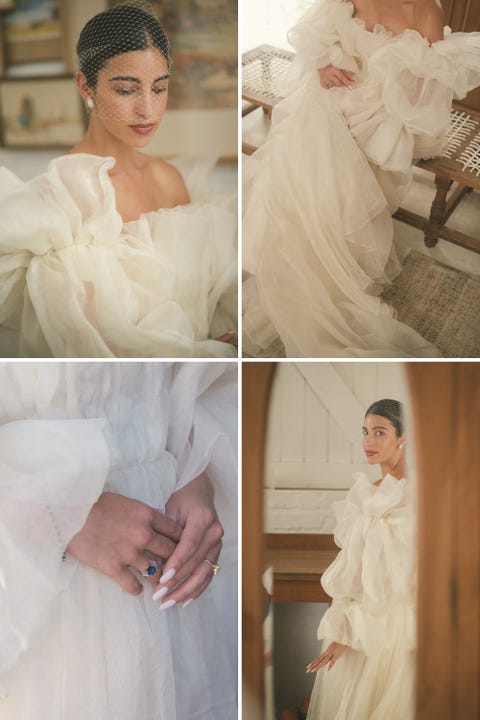 La Dichosa
La Dichosa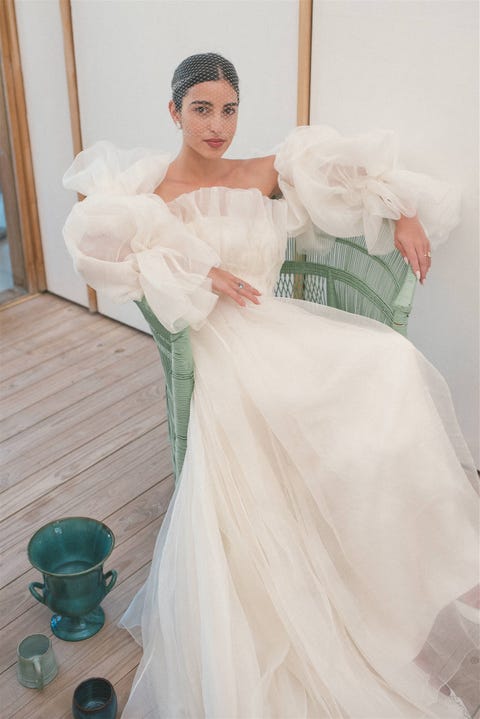 La Dichosa
Bettina wore a bespoke gown by Khyeli, the namesake label of Emirati designer and creative, Ahmed Alkhyeli. "I will never forget the first time I ever went to see one of his presentations in London," Bettina says. "The dresses and the [presentation] itself were so moving. … I always knew Ahmed would be the one to design my wedding dress. I love his passion and how he truly loves to understand your story to connect it with the piece he is creating. He has become such a dear friend."
The gown, a pleated, off-the-shoulder, A-line number with blouson bishop sleeves was paired with customized Manolo Blahnik shoes. The bride's something borrowed and blue, her grandmother's earrings and a sapphire bracelet, were worn along with a sapphire ring Carlos had gifted her the morning of their wedding. "[My] something old was also a charm that belonged to my grandmother that we tied around my bouquet alongside of a photo of her. She passed away on January 6, a month before our wedding, and I wanted to make sure that she still had the best seat in the house and walked me down the aisle. She was there by our sides the entire time," says Bettina.
Bettina partnered with Estée Lauder on her beauty look in collaboration with her makeup artist. "Rachel and I met with Estée Lauder prior to the wedding to do a few makeup and hair trials. We went for a softer look and also tried to keep it as natural as possible. Also, their matte lips were [the] absolute best and stayed on for hours at a time." Bettina kept her hair simple and clean, with a bespoke face veil that she created in partnership with Khyeli wrapped around and into her hair.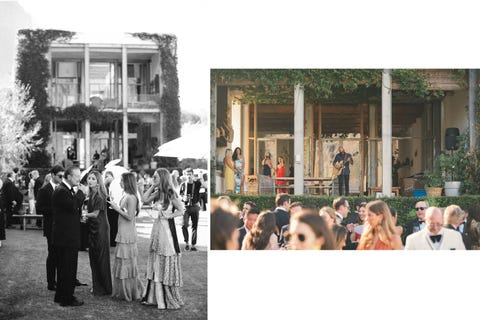 La Dichosa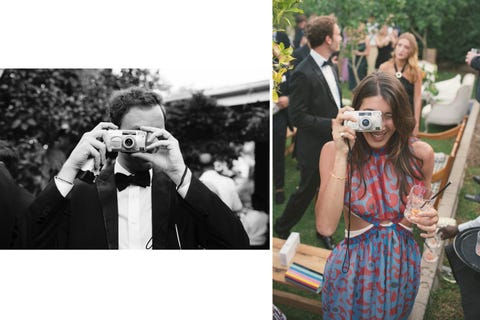 La Dichosa
Guests arrived at the venue and enjoyed a cocktail reception before taking their seats for the ceremony at Johannesdal. Carlos walked down the aisle with his parents in Tom Ford; Bettina followed with her bridesmaids, escorted by her father. "Walking down the aisle with my dad and some of my beloved girlfriends felt so surreal. It wasn't typical in terms of bridesmaids walking down the aisle before me. We all walked together to the front of the service, and then separated so that my father could walk me down. The [walk towards the ceremony] was quite long, and we kept looking at each other and making sure we were keeping it together from crying, even though it was extremely difficult. It was so lovely, all of us walking together, and it wasn't something we planned. We just ad hoc-ed it a few minutes before getting ready. And it was perfect."
The bride walked down the aisle to "Feeling Good" by Nina Simone, sung by a local artist. "Every time I hear it, I get goosebumps from head to toe," Bettina says. "Hearing her powerful voice overtaking the entire valley while looking over the picturesque mountaintops was truly one of the most overwhelming experiences of my life. I couldn't see Carlos until I reached the aisle, and when I turned the corner to walk up to him, it was truly so beautiful. Seeing him in that moment made me realize the true meaning of marrying your life partner."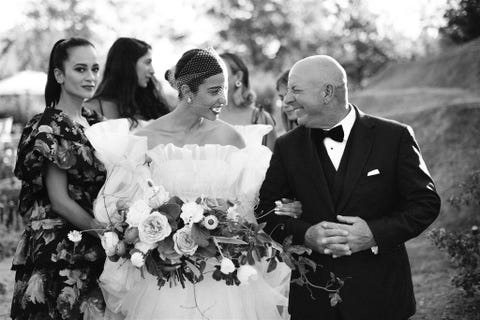 La Dichosa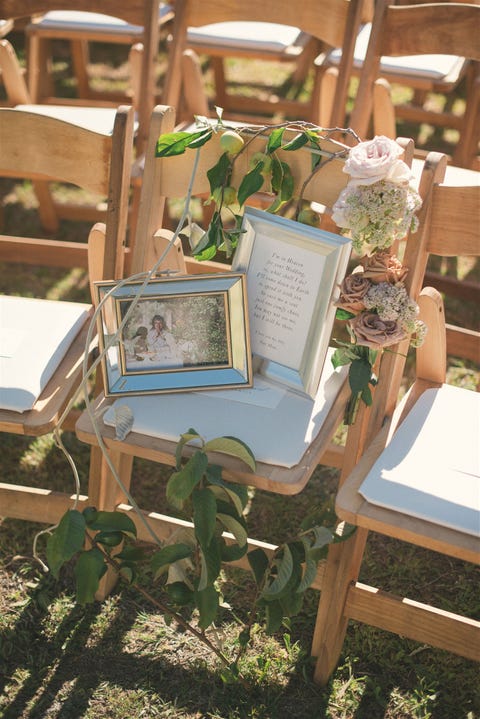 La Dichosa
La Dichosa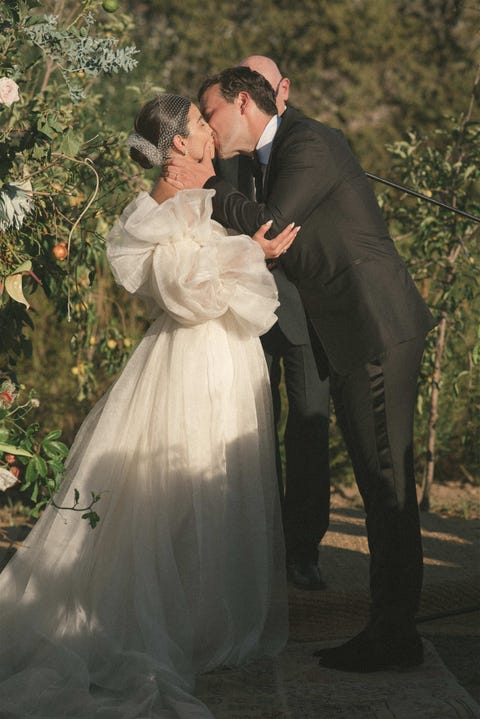 La Dichosa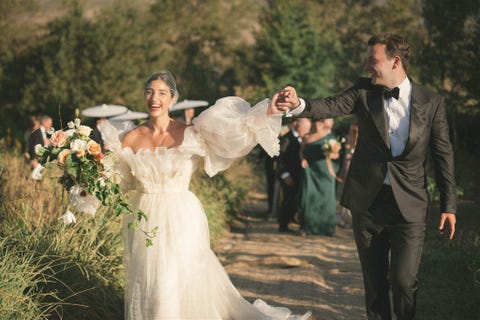 La Dichosa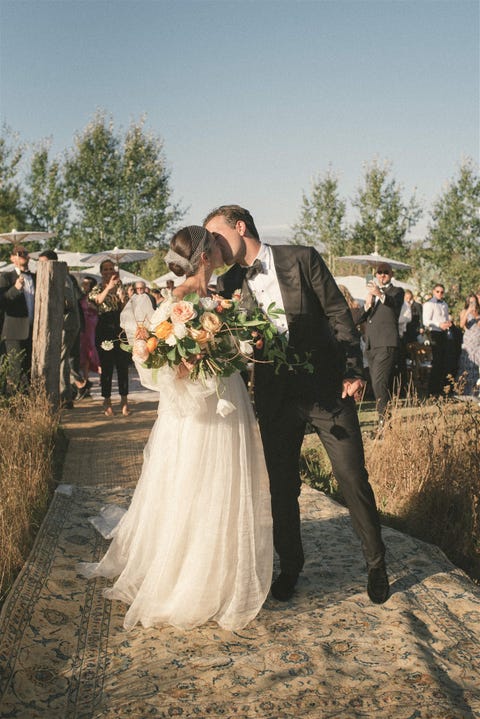 La Dichosa
Bruce Bender, a longtime family friend of Carlos's, officiated the ceremony. The bride's brother "read a beautiful bible verse, Colossians 3:12-14, about wearing love," and her sister read a meaningful poem by Maya Angelou. "It was so simple and so deep. We both decided to write our own vows to each other, and I don't think there was one person in the entire valley who was not crying."
After the ceremony, guests were invited to cocktails in the tiered gardens before heading to dinner on the lower lawn. Lush Flowers, which Bettina discovered in downtown Cape Town on the hunt for an arrangement, helped create the tablescapes, alongside Anne and her team. The furniture was also curated. "We were so inspired by all of the aesthetics that we decided to get creative ourselves and customized a lot of our own furniture to complement the incredible scenery. I am rattan obsessed, and we created all of the bars and DJ booths with Anne and Curated Event," Bettina says. Jade Paton Ceramics, owned by the daughter of the owners of Lush Flowers, Daniela and Garth Paton, provided the vessels for the tables and surrounding decor.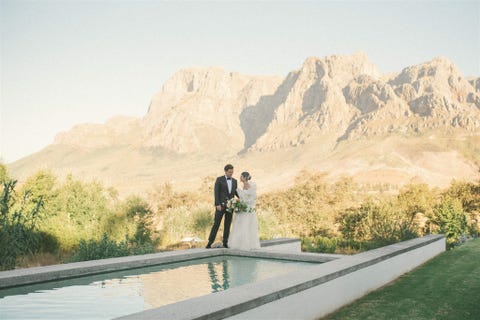 La Dichosa
La Dichosa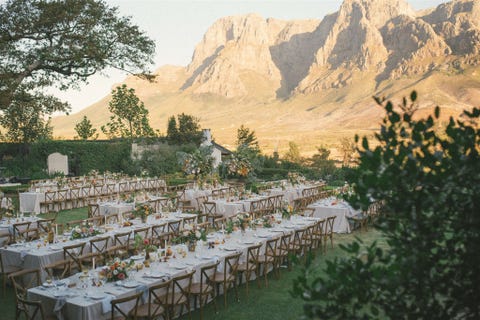 La Dichosa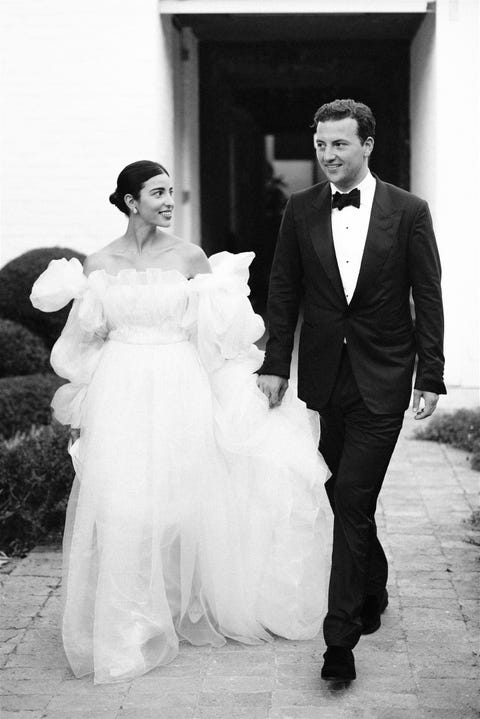 La Dichosa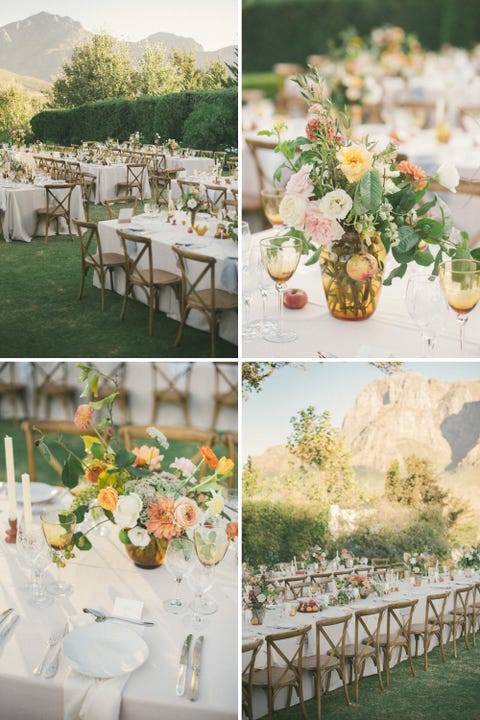 La Dichosa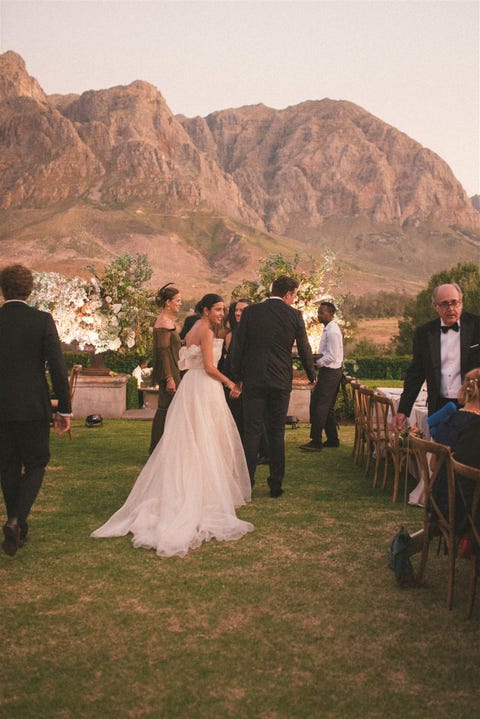 La Dichosa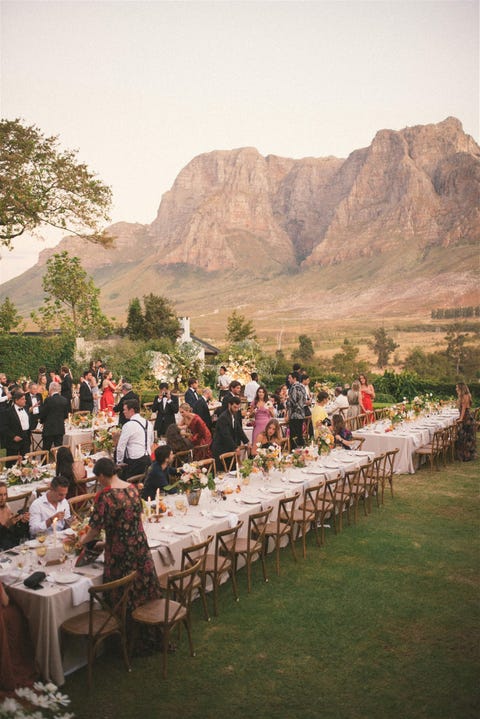 La Dichosa
A bossa nova band provided the soundtrack to a dinner created by Jacques Erasmus, who owns one of Cape Town's best restaurants, Hemelhuijs. The couple had their first dance as newlyweds to "Like I'm Gonna Lose You," by Meghan Trainor and John Legend as another nod to Bettina's late grandmother. "She was Meghan Trainor obsessed. It was sung live, and it was one of the last songs we both danced to together with her. Truly, it was a dedication to her and the blessing she gave us when she watched us civilly get married," Bettina says.
And then, the party really got started. At midnight, "We did a Hispanic tradition called la hora loca, which translates to 'the crazy hour,'" Bettina says. "Marimba drummers came out to get the party started, and so many other party props were brought out including Segovia-branded tambourines and floral headbands my mother-in-law made by hand." Carlos's mother created an additional surprise with some key family members: "They all came out in extremely tropical outfits, with fruits on their head and performed an entire dance—our jaws literally dropped!"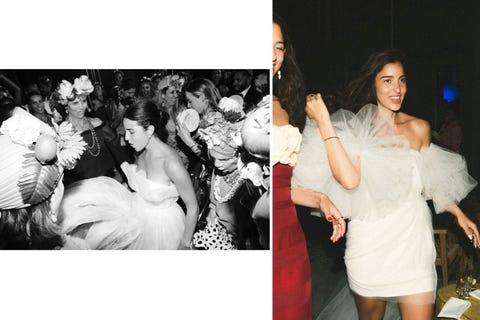 La Dichosa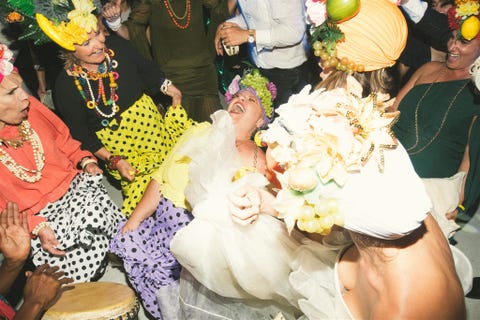 La Dichosa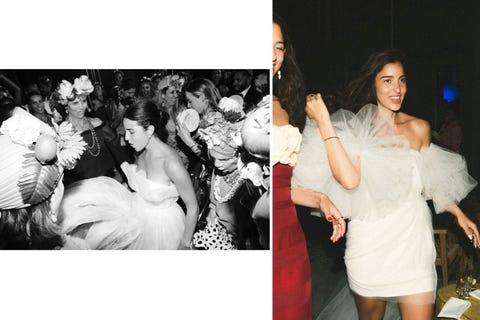 La Dichosa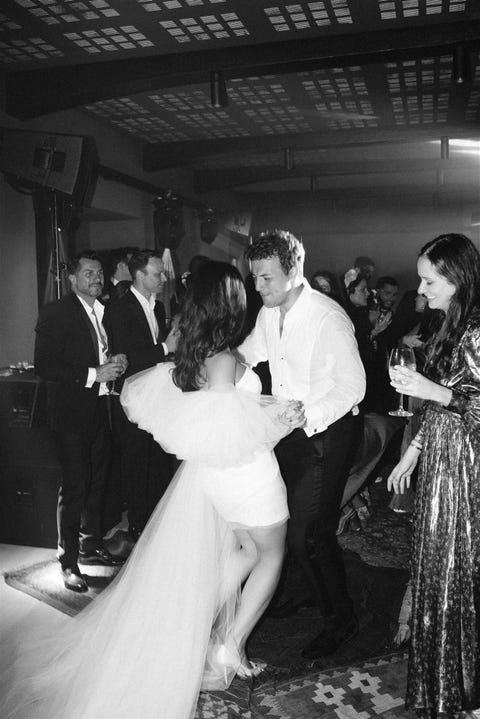 La Dichosa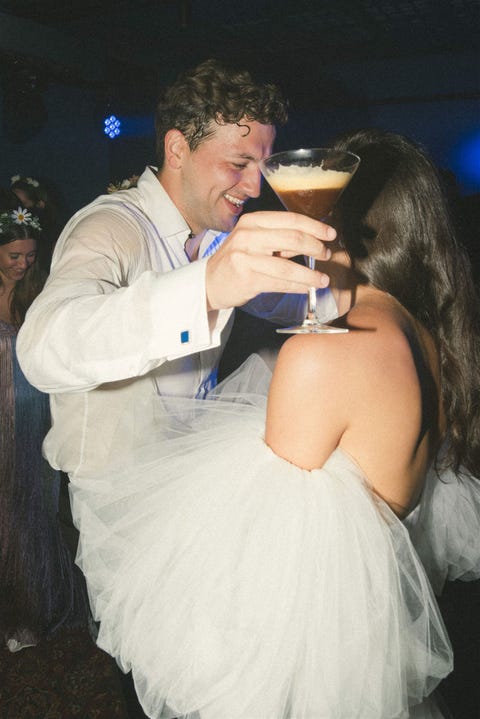 La Dichosa
The drummers then brought the party inside where a soundproof club was waiting for guests to dance the night away. "We danced until 6 a.m. in a club that we created inside to avoid any chance of noise complaints," Bettina explains. "The after-party was all covered with Persian rugs and rattan furniture in darker tones." For late-night dancing, the bride wore a minidress with tulle off-shoulder sleeves and a long tulle train, also by Khyeli.
The next day, guests gathered at Pengilly House for a midday recovery brunch. "The home chefs created the most delicious lunch. Rus Nerwich whipped out the vinyls for the first few hours, and then our friend, Floyd Lavine, deejayed to get the party started one last time. He had everyone up and dancing. It ended up turning into a full-on party! It was the perfect ending to our week of paradise."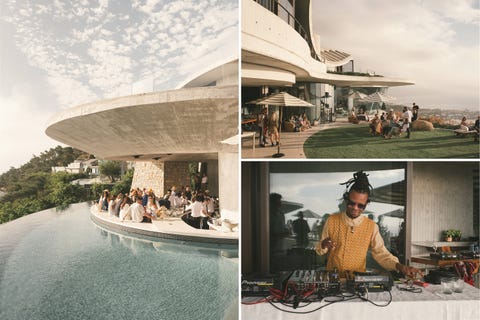 La Dichosa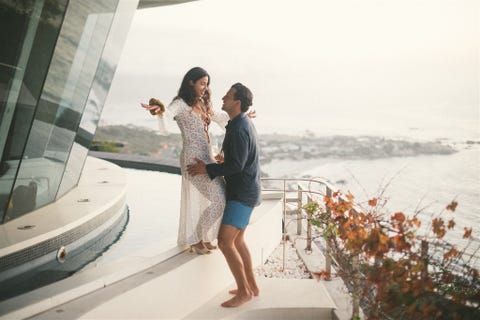 La Dichosa
After the celebrations, Carlos and Bettina continued their exploration of South Africa, popping over to the Dorp Hotel, followed by two days at Tintswalo Atlantic, and finally heading to Kruger National Park for a stay at Singita Lebombo and Sweni Lodge. "We were so moved by not only the wildlife that we were able to experience but how impeccable the lodges were and how much good the Singita family does for the community," she explains. "The service was unparalleled. Their love and consideration for the wildlife is so immense, and the members of the team are so incredibly knowledgeable. We were so moved by their philanthropic initiatives."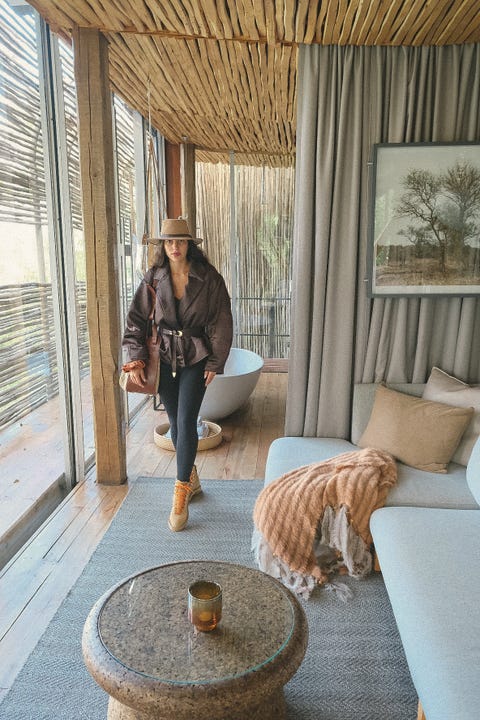 LA DICHOSA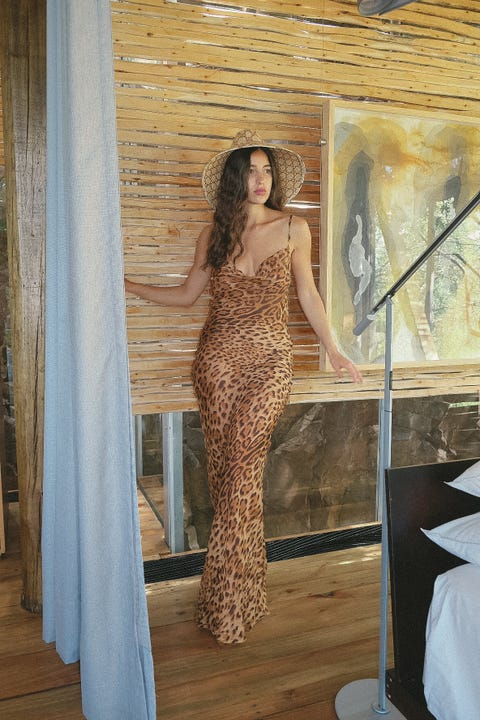 LA DICHOSA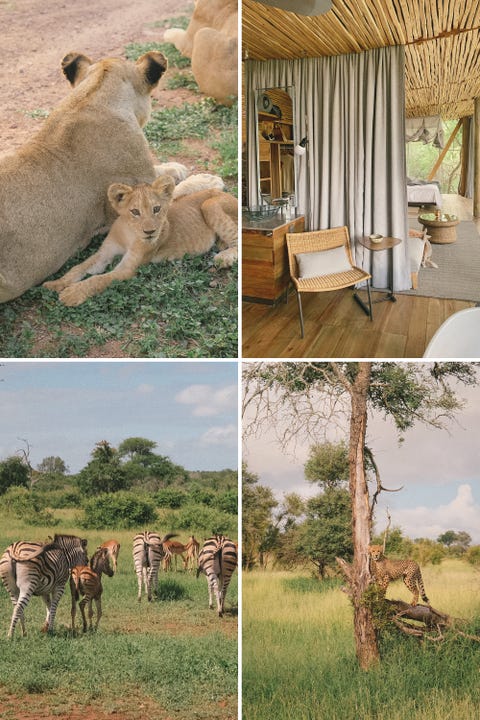 La Dichosa
The couple paired their alliance with charitable brands throughout their wedding with a philanthropic registry as well. Guests were asked to donate to the Avela Foundation, a nonprofit organization committed to helping children with burn injuries on their road to physical and psychological recovery. "We are so grateful for the love and support everyone showed towards supporting Avela," she shares. "That was the greatest gift of all."
Carrie Goldberg
Weddings & Travel Director
Carrie Goldberg is HarpersBAZAAR.com's Weddings & Travel Director.