Leinster head coach Leo Cullen says he wouldn't be keen on the United Rugby Championship final being played in South Africa, particularly if it's between two northern hemisphere teams.
While the URC are yet to confirm a venue for this year's final, which will be played on Saturday 18 June, there have been reports it will be staged in South Africa, to drive interest in the league in the rainbow nation.
Prior to the Covid-19 pandemic, the previous five championship final venues had been pre-determined at the start of the season, while before that home advantage was given to the finalist who finished higher in the regular season.
And although there have been previous finals where both sets of fans have had to travel several hours from their home bases, such as the 2015 decider between Munster and Glasgow in Belfast, or 2016 which saw Leinster and Connacht meet in in Edinburgh, Cullen says he would struggle to understand a situation where two northern hemisphere sides may travel to South Africa for a decider.
"That's the thing I'm struggling to get my head around," he said this afternoon.
"I think it'll be a challenge in the short term.
"There were destination finals in recent years in the league, we didn't have it last year because of empty stadiums. The last destination final was Glasgow [2019]and it so happened that Glasgow made the final, the year before we had Scarlets in the Aviva which we were at home for, so we managed to get a good crowd.
"It would be a challenge. Would that sell tickets? Whether it's a final destination in the northern hemisphere with two South African teams, or vice-versa with a final declared in South Africa with two northern hemisphere teams.
"With so much home support, it certainty would be a challenge to get a crowd. That's just my personal opinion."
The Leinster boss (above) added that he believes home advantage should be a reward for the team who finishes top of the regular season, with his own side currently 10 points clear at the summit of the table.
"It's a fine line, a very fine line. I think the top teams have to be rewarded, just the nature of it, that's my personal opinion.
"That's going to be the big challenge for teams. Everybody has to incentivize teams to get the higher seedings. We know ourselves with three games to go, we're currently number one seeds, we want to keep that for obvious reasons about trying to keep home advantage because I think the team that does finish top does deserve that."
Cullen was speaking from their base in Durban, with the leaders set to face the Sharks and then the Stormers in the next two weekends, on what is their first trip to South Africa since 2018.
In good news for the province, they confirmed today that James Ryan is available once again having been stood down since suffering a concussion in Ireland's win against England at Twickenham in March.
The lock took part in the warm-up for Friday night's Champions Cup last 16 second leg against Connacht, with Leinster confirming he would have been available to play if needed.
However, he didn't travel with the squad for their South African tour, with Andrew Porter and Ronan Kelleher (below) the only of their international front-liners who made the trip.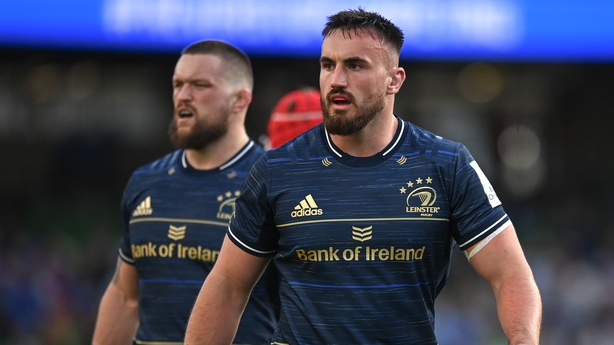 Cullen has defended his decision to leave so many marquee players at home.
"The reality is that most of these guys here have played a lot more minutes probably than some of the guys left at home – in this tournament," he added.
"That's just the nature of what we're involved with, we want as many guys as possible to go on and represent Ireland. That means you play certain sections of the season without some of those international players. That's just the nature of the competition we're in.
"A huge amount of work has gone in to get the group to the point we are.
"During the Six Nations period when the internationals are away, there were five Six Nations games in nine weeks, we had seven games in those nine weeks where international players weren't available. It's continuing in that trend. To be fair to the guys , they've done a huge amount of work to get us to the point where we're sitting 10 points clear at the top of the table.
"We have 45 senior players, 20 academy players. You want as competitive a group as possible, and the only real way you create competition is by giving some of those younger guys some opportunities."
Follow Ulster v Munster (Friday 7.35pm), Lions v Connacht (Saturday 3.05pm) and Sharks v Leinster (Saturday 5.15pm) via our live blogs on rte.ie/sport and on the RTÉ News App.
Watch Ulster v Munster, and Lions v Connacht on RTÉ2 and RTÉ Player. Listen to Ulster v Munster and England v Ireland (Sunday 12pm) in the Women's Six Nations on RTÉ Radio 1 Extra.