England v South Africa: third women's cricket T20 international – live! | Women's cricket
key events
Show key events only
Please turn on JavaScript to use this feature
12th over: England 88-4 (Jones 1, Bouchier 1) Amy Jones and Maia Bouchier are the new batters.
wicket! England 86-4 (Wyatt b Tryon 30)
Two wickets in two balls! Wyatt has yorked herself, trying to hit Chloe Tryon inside out through the off side, and South Africa are right back in the game.
11th over: England 86-3 (Wyatt 30, Jones 0) Mlaba is having a day out in Derby: 3-0-14-0.
wicket! England 86-3 (Sciver b Mlaba 24)
Three wickets for Nonkululeko Mlaba! Nat Sciver misses a pull at a delivery that skids on to hit middle stump, and she's out for a run-a-ball 24.
10th over: England 80-2 (Wyatt 28, Sciver 22) A short ball from Tryon is smashed to cow corner by Sciver for the 12th boundary of the innings. England are on course for an imposing total. That's it drinks.
9th over: England 75-2 (Wyatt 28, Sciver 17) Sciver hammers Tucker for four, and then Wyatt is dropped. She hammered a sweep towards deep midwicket, where Klaas put down a sharp two-handed chance to her right.
8th over: England 68-2 (Wyatt 27, Sciver 11) Danni Wyatt has been starved of the strike but she is still rattling along. She times Klass past short third man for four, a classy shot that is followed by a hearty cut for two. Wyatt has 28 from 18 balls, Sciver 11 from 12.
7th over: England 61-2 (Wyatt 21, Sciver 10) Wyatt clouts Delmi Tucker's second ball back over her head for six, though the fielder (Bosch I think) almost took a sensational running catch. She got a touch on the ball as she stretched to her left but could only push it onto the sponge.
Updated at 14.01 EDT
6th over: England 53-2 (Wyatt 14, Sciver 9) Another bowling change, the fifth of the innings, with Khaka returning to the attack. She's getting her usual inswing, and Sciver works a couple behind square to bring up the England fifty.
5th over: England 47-2 (Wyatt 12, Sciver 5) Excellent stuff from Mlaba, who has figures of 2-0-10-2. The rest have combined figures of 3-0-34-0.
Sciver is not out! It was just missing leg, and Sciver survives.
WICKET? Sciver LBW b Mlaba 4 The stand-in captain Nat Sciver sweeps her first ball for four with the minimum of fuss – but then she's given out after missing a pull! I thought that was missing leg stump, and Sciver has reviewed.
Updated at 13:51 EDT
wicket! England 41-2 (Capsey c Tryon c Mlaba 25)
Alice Capsey's charming cameo is over. She charged the new bowler Mlaba and mistimed a drive towards mid-off, where Chloe Tryon took a good catch. Capsey goes for an eye-catching 17-ball 25, and Mlaba has struck with the first ball of both spells.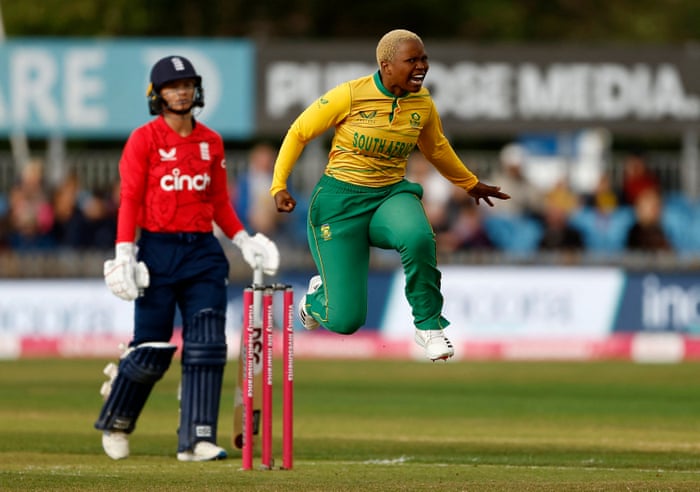 South Africa's Nonkululeko Mlaba celebrates taking the wicket of England's Alice Capsey. Photographer: Jason Cairnduff/Action Images/Reuters
Updated at 14:20 EDT
4th over: England 41-1 (Wyatt 12, Capsey 25) Chloe Tryon brings herself into the attack, and ruins an otherwise good over with a rank long hop that Wyatt launches over extra cover for four.
3rd over: England 34-1 (Wyatt 7, Capsey 23) An inswinger from the new bowler Ayabonga Khaka is tucked fine for four by Capsey, who has charged to 23 from 12 balls. This is her first innings for England, at the age of 17, and she's batting like this. The phrase "I don't understand the youth of today" doesn't have to be a lament. Capsey's batting is charming, infections and entirely alien.
Wyatt, who bats like this all the time, slaps another boundary over the covers. England are off to a flyer.
Updated at 1:45 p.m. EDT
2nd over: England 20-1 (Wyatt 2, Capsey 17) Masabata Klaas shares the new ball – and Alice Capsey hits her for four consecutive boundaries! This is sheer delightful batting from a 17-year-old whose fearlessness made her one of the stars of last year's Hundred.
The boundaries were all round the ground, too: over mid-on, over backward point, a drive between extra cover and mid off and then a pull over short fine leg. Wonderful stuff.
1st over: England 4-1 (Wyatt 2, Capsey 1) The 17-year-old Alice Capsey has been promoted to No3. She didn't bat on her debut at Worcester on Saturday, and she gets her first run in international cricket with a sweep.
Danni Wyatt then charges Mlaba and edges through the vacant slip region for a couple.
wicket! England 0-1 (Dunkley c Wolvaardt b Mlaba 0)
Sophia Dunkley has gone first ball! She sliced ​​a flighted delivery from the left-arm spinner Nonkululeko Mlaba towards backward point, where Laura Wolvaardt took a good low catch. There was a little bit of extra bounce, and I think that's what did for Dunkley.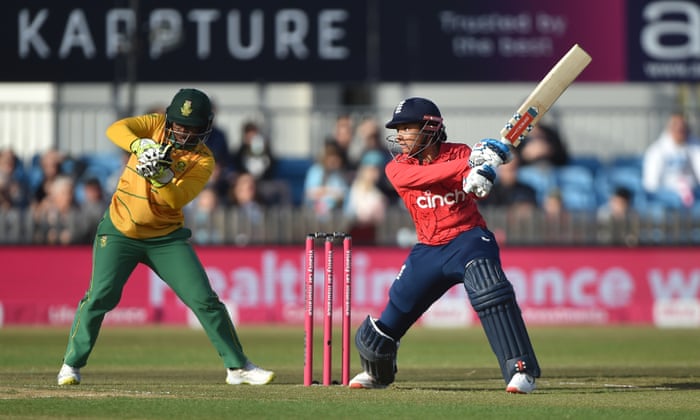 Sophia Dunkley watches the ball as it heads towards Laura Wolvaardt who takes a catch to dismiss the England batter. Photographer: Nathan Stirk/Getty Images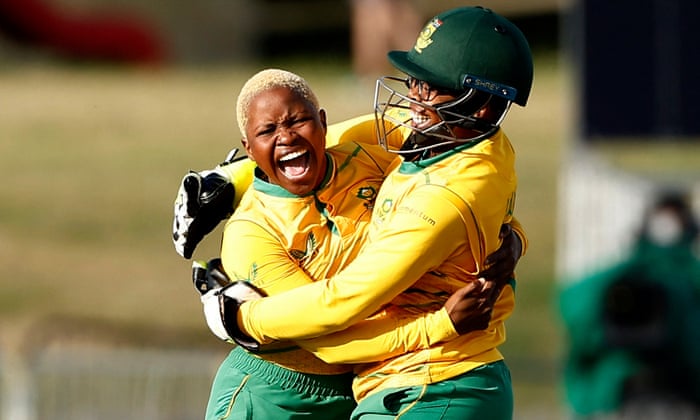 Nonkululeko Mlaba left) celebrates taking Dunkley's witcket with Sinalo Jafta. Photographer: Jason Cairnduff/Action Images/Reuters
Updated at 14.19 EDT
The players are out. There was a bit of a rain earlier in Derby but it looks a pleasant if blustery evening. Let's play!
Updated at 13:28 EDT
It's just not cricket
Tomorrow night, there is an extremely important association football match at Bramall Lane. Here's Louise Taylor's preview.
team news
The left-arm seamer Freya Kemp, who only turned 17 in April, will make her England debut. Issy Wong also returns to the side, with Bryony Smith and Freya Davies dropping out.
South Africa are without Sune Luus and Shabnim Ismail; their replacements are Tazmin Brits and Nonkululeko Mlaba.
England Dunkley, Wyatt, Sciver (c), Jones (wk), Bouchier, Capsey, Brunt, Ecclestone, Kemp, Wong, Glenn.
South Africa Brits, Goodall, Bosch, Wolvaardt, du Preez, Tryon (c), Tucker, Jafta (wk), Klass, Khaka, Mlaba.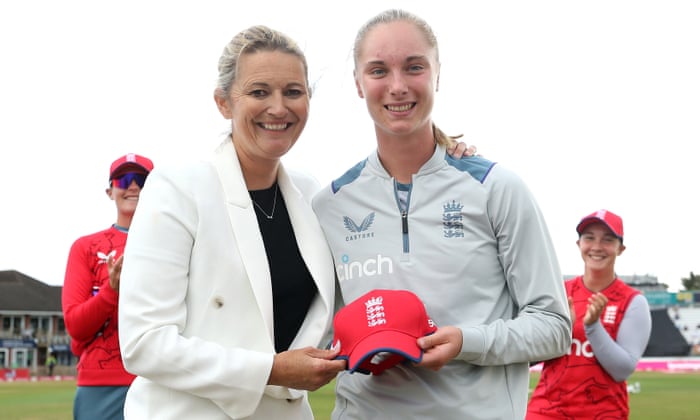 England's Freya Kemp receives her first T20 cap from former England captain Charlotte Edwards. Photographer: Jan Kruger/ECB/Getty Images
Updated at 13:28 EDT
England win the toss and bat
The England captain Nat Sciver has won the toss. South Africa also have a stand-in captain, with Chloe Tryon covering for the unwell Sune Luus.
preamble
Hello and welcome to the last game of a surprisingly one-sided series, and a chance for England to complete a white-ball whitewash. They've won five out of five so far, most of them at a canter. With last month's one-off test match ending in a draw, the score in this multiformat series is England 12-2 South Africa.
It's not just the victories that have made this such a feelgood series for England. A number of young players have emerged or excelled: Alice Davidson-Richards*, Emma Lamb, Issy Wong, Charlie Dean, Alice Capsey, Lauren Bell and the increasingly brilliant Sophia Dunkley.
Parting is such sweet sorrow for cricket fans, especially when it involves the slow break-up of a legendary team like the 2017 World Cup winners. But all of a sudden England's future – and their prospects in the upcoming Commonwealth Games – look pretty bright.
England will be without Heather Knight tonight – she has a hip problem – so Nat Sciver will captain the side. We'll have the rest of the team news, and the toss, at 6pm.
* Yes, yes, I know she's 28, so not that young in cricketing terms, but she scored a century on Test debut FFS! Objection overruled.
Updated at 13:24 EDT