Handball champions Equity Bank celebrate their victory during Kenya Institute of Bakers games at Absa Sports club, Nairobi. October 28, 2022. [Jonah Onyango, Standard]
Equity Bank are the men and women's handball champions in the Kenya Institute of Bankers Interbank Sports whose curtains come down in Nairobi today.
Both outfits triumphed with maximum points in their categories to lift the coveted trophies.
Equity men smashed all the eight rivals in the round-robin encounter to finish at the top with 16 points while their women counterparts cruised over all the five opponents to win the cup with ten points.
On their way to glory, Equity men beat Central Bank of Kenya (CBK) 18-16, Co-Op Bank 14-8, defending champions KCB Bank 17-11, Diamond Trust Bank (DTB) 15-0, Stanbic 16-8 , NCBA Bank 21-6, Para 20-12 and Standard Chartered Bank (SCB) 13-2.
Likewise, their female colleagues beat Absa 9-1, CBK 14-3, Co-Op Bank 11-4, KCB Bank 12-3 and NCBA 14-0.
The men are winning the trophy for the first time while the women successfully defended their cup for the third time in a row.
"We feel very proud, we have taken our bank to greater heights with these victories, we hope to spread this winning spirit to other disciplines in the game," men's captain Peter Mbuthia told Standard Sports.
"Winning the men's tournament means a lot to me and my squad, we have been waiting for this moment since 2018."
Since the men's cup was introduced four years ago, Co-Op Bank and immediate former champions KCB Bank were the previous title holders.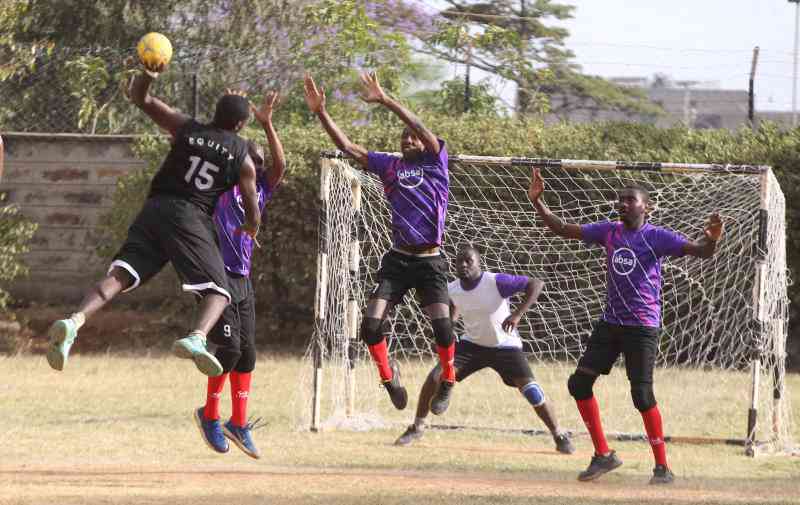 Equity Bank's Nicholas Mwirabua (left) aims Absa goal during Kenya Institute of Bakers football match at Absa Sports club, Nairobi. October 28, 2022. [Jonah Onyango, Standard]
"We prepared both physically and mentally for the tournament. We were always very early on the pitch for training and we ensured we had all it takes to lift the trophy before we proceeded for the tournament," said Mbuthia who previously coached the women's team before he resumed playing this season.
According to the skipper, the secret to the men's victory was team work and passion which was cultivated into the squad through focus and discipline.
"Previously, our handball players were also taking part in other sports disciplines during the games, but this season we ensured they only focused on handball alone, this definitely strengthened our bonding," he stated.
In the last edition of the games, Equity men were ranked eighth out of the nine teams, a discouraging performance which Mbuthia said was brought about by lack of focus.
Mbuthia's message to anyone interested in handball is that they should first develop the passion, then they should train hard to win easily.