Jaramogi Oginga Odinga is known to many as one of the founding fathers of Kenya, for his significant role in the struggle for independence, which made him the first Kenyan Vice President. Not many, however, know that he was very instrumental in the struggle for civil rights in the United States of America.
As Kenya celebrated independence from the British in 1963, America was in one of its darkest times, with the greatest struggle for racial equality in history.
The US State Department had organized a visit by several world leaders to tour the country to downplay the mounting tensions exerted by the civil rights movement led by Dr. Martin Luther King Jr. and Malcolm X.
An undated picture of civil rights activist Malcolm X at a civil rights rally.
file
During this time Jaramogi Oginga Odinga made a tour of the country during a state visit to America and made a stop in Atlanta, where he was accommodated in a non-separated hotel.
When they knew he was in Atlanta, several Student Non-Violent Coordinating Committee (SNCC) activists who had heard of Oginga's efforts to fight independence in Kenya organized a demonstration at the hotel where Oginga and other leaders were located stayed to make claims Come out and hear the true story of blacks in America.
The dignitaries were stopped for security reasons, but when Jaramogi Oginga heard of the demonstration, forced his way through the strict security measures and went to join the thousands of black Americans who had gathered outside their hotel.
He listened to their racial segregation stories to familiarize him with the struggles they faced and stated that they were oppressed and because of the color of their skin they had never known freedom.
Oginga joined the activists in their demonstration, and they sat down to protest when seventeen people were arrested.
Then Matthew Jones from Knoxville composed a song about the fearless Oginga Odinga, who told a story of showing solidarity with SNCC activists to protest racial segregation in America.
"The policeman looked at Oginga Odinga mightily, he got scared because he was an EX-Mau Mau," the lyrics revealed.
"Oginga Odinga from Kenya said, look here, if you whites don't straighten up, I'll call Jomo Kenyatta," it continues.
Malcolm X heard through the song of Oginga's efforts in Atlanta and praised him as one of the greatest freedom fighters Africa has ever known.
"The fact that you sing about Oginga Odinga is pretty significant to me, two years ago that couldn't have happened, it's only possible because he's not humble and forgiving, he's free," he told activists in one Civil rights rally.
The song became Malcolm X's favorite for his call to freedom for African Americans, which had a huge impact on the civil rights movement.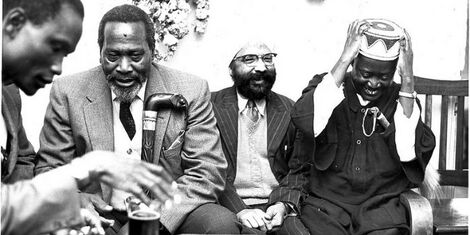 Left to right: Achieng Oneko, Jomo Kenyatta, Makhan Singh and Oginga Odinga 1961
file
Amarjit Chandan – Amarjit Chandan Archives
death arrest struggle