The flourishing state of second-hand clothes in the country is credited to a threat that was sent to Kenya by then US government under former President Donald Trump.
Between 2015 and 2017, Kenya had initiated plans to totally ban the import of second hand clothes. President Uhuru Kenyatta led the administration argued that mitumba undermined its efforts to build domestic textile industries.
The government initiated plans together with other East African countries to totally ban mitumba importation by 2019.
However, a threat by Trump foiled the entire plan to outlaw second-hand clothes, giving the multi-billion sector a lifeline.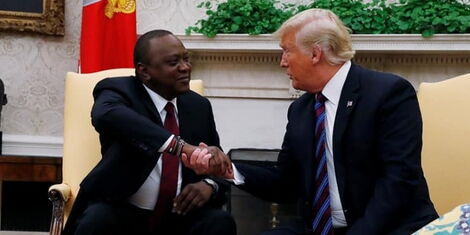 President Uhuru Kenyatta with US President Donald Trump at the White House in February 2020
PSCU
In March 2017, the Office of the United States Trade Representative threatened to remove Kenya from the Africa Growth and Opportunity Act (AGOA).
In mid-2017, Uhuru's administration reconsidered its plan on banning mitumba. It sent another message to President Trump's administration explaining that it would comply with America's conditions and withdrew the proposed ban.
At that time, Kenya was the biggest beneficiary from AGOA compared to other East African countries. The government also withdrew the ban to avoid losing its lucrative textiles exports to the US.
The sector has continued to flourish contributing to the growth of the economy. According to statistics from Institute of Economic Affairs (IEA) commissioned by the Mitumba Consortium Association of Kenya, mitumba paid Ksh12 billion in taxes in 2019, and employed over 2 million people in the country.
"The value of mitumba imports to Kenya has risen steadily in recent years, hitting Ksh18 billion in 2019 up from Ksh10 billion in 2015. Much of the 185,000 tonnes of second-hand clothing, equivalent to 8,000 containers, imported in 2019 found its way to markets and retailers across Kenya and East Africa, with Mitumba imported to Kenya and subsequently exported to Uganda, Tanzania, Congo Brazzaville, DRC, Somalia, and Lesotho," the report read in part.
In March 2020, Uhuru's government banned the importation of mitumba into the country. The ban was, however, lifted in 2021.
After the ban was lifted, data from Kenya National Bureau of Statistics (KNBS) indicated that the value of these clothes went up to Ksh9.2 billion.
During the launch of his manifesto, Azimio la Umoja presidential candidate, Raila Odinga, also revealed plans to revive the sector by encouraging local production.
"Mitumba killed all our sectoral industry. Our people are only wearing clothes coming from outside the country which have been worn by people who are dead.
"We are going to primary production so that our people who are importing mitumba can have good products to sell here. I am saying we are not moving anybody out of business, we will ensure that those who are importing mitumba get the first hand to market goods which are going to be manufactured here in this country," Raila stated.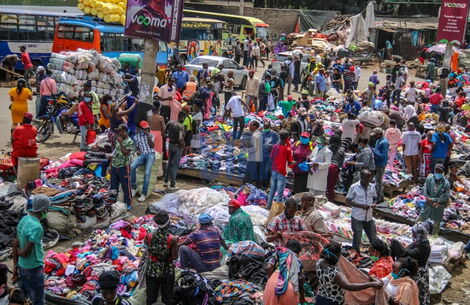 A file image of traders at Gikomba market.
Files
dead killed