A Kenyan serving in the US Army has emotionally revealed how his life took a turn for the better after he was enrolled in the US Army.
Senior Airman Patrick Ikua grew up in Kenya and experienced all forms of atrocities while witnessing terror attacks and political instability before his breakthrough.
Ikua who even acquired US citizenship wondered if he could still be alive while in Kenya because of the many challenges he encountered during his 17 years stay in the East African country.
"If I still lived in Kenya I wonder if I would even be alive today. I am happy to be an American right now. This country has given me a lot to be proud of and I am happy the Air Force helped me with getting my citizenship in order," Ikua stated in a publication by Defense Visual Information Distribution Service (DVIDS).
Senior Airman Patrick Ikua on duty repairing US military truck
Files
"I don't even feel like I have given enough back; I should give more back to this country. I now live in a peaceful society, my child goes to school and doesn't have to worry about if she will be able to go," he stated.
His tense childhood memories compelled him to join the military. At the age of 17, Ikua was trained by members of the US Air Force who were on a mission to help educate and train Kenyans in disaster management in the event of a major attack.
"Growing up in Kenya, we have a US military base there. Every now and then you get to see them helping out in times of terrorism, trying to prevent terrorism, and that makes me feel like the impact they have on the universe, not just even the US They are not just fighting terrorism in their own county, but countries like Kenya as well," Ikua stated.
But his background almost impeded him from joining the Army. He recalled being taken through a series of checks that almost made him give up.
"When meeting with the recruiter, I learned the process of what it took to join the Air Force, being a foreigner.
"It is a long process due to security and background checks. It took me almost two years to get in. There were times I almost wanted to give up and was second-guessing my decisions," Ikua remarked.
However, the soldier explained that he does not regret joining the US army. He stated that he now enjoys maximum freedom together with his family.
"The freedoms I enjoy here in America are very different from what I had in Kenya. Most people wonder why I am talking about freedoms here, but as somebody who was born on a different continent, you are able to differentiate between the freedoms here to the ones missing in Kenya.
"I am able to go to work, come home, and see my family and they are happy."
Ikua is pursuing a nursing course in the US while at the same time serving as a mechanic in the army.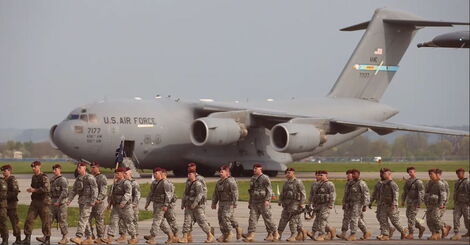 Members of the US Army walking at an airport.
Twitter
terrorism fight