I fly low over the savannah in the Pilatus PC 12 from Federal Airline and see the ivory-colored tent covers of the Saseka Tented Camp below us. They are strung like a baroque pearl necklace on a curve of the Monwawa River in the Thornybush Private Game Reserve. Since the runway is clear of game, the plane can land on the runway of the bush. After a short ride in an open Safari Land Cruiser, I am warmly welcomed to camp with a smile and a fruit drink.
With a high tent ceiling made of cream-white canvas, stone-colored conglomerate floor and an open front, the main public area – with lounge, dining veranda and bar – is light and airy. A panorama of river and green bush can be seen through the multi-level room. Designed and decorated by the renowned duo Silvio Rech and Lesley Carstens, there are creative and artistic surprises everywhere. Slabs of rock form a bridge over a water feature that reflects the wooden slats of the ceiling as light falls through them. A low table has a cork background. The tiles depict local plant species that were pressed into the clay before baking. The color palette is low-key, with accent shades of sage blue and pastel pink, a fresh and original approach to designing a game lodge. Antiques and furniture that are native to South Africa include a wooden lectern with information, an iron Aga stove, and wooden boxes. A wooden rocking chair adds another playful item, great for my mimicked fashion shoot selfies! Carefully placed bleached animal bones and ceramic vases with dried flowers and pods add to the touch of nature. The atmosphere is characterized by relaxation and informality, an invitation to feel comfortable and curious about the decor details.
The sandy path to my tent suite is flanked by undisturbed bush, with native trees such as apple leaf, lead wood and jackalberry over bushes and flowering grasses. A nyala – a spiral-horned antelope – with her baby steps gently in front of me as if she were showing the way. I see a lizard basking in a circle of the sun, and then an amazingly bright green grasshopper.
My tent suite – one of eight – reflects the elements of the common area and gives a feeling of being immersed in the bush inside and out. Floor-to-ceiling glass doors as well as the open areas for living room, bedroom and bathroom ensure maximum light. The draped cover fabric shows botanical images of local plant specimens with their Latin species names, which originally come from the Pretoria Herbarium. Instead of using the air conditioner, I open all the doors to enjoy the scent of pure air and hear the calls of birds.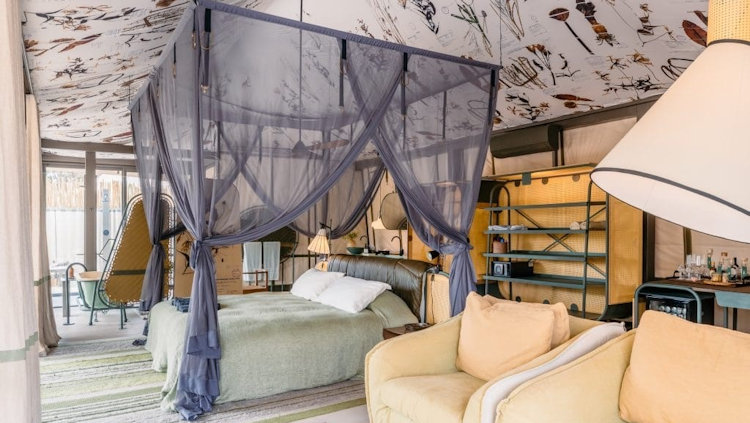 Before unpacking, I enjoy a swim in my very private pool to watch a crested Francolin family dart around in the grass and a red-backed shrike immobile in a tree fuchsia. From this elevated point I look down to the beach-like river bed, which is lined with lush bush. Melodic notes of a white-brown peeling robin convey the feeling of being in the nirvana of nature. Under the canopy of an old Maroela tree, my outdoor shower is also completely private. A Victorian-style bath in the tent sits next to glass doors that open for cool breezes and unobstructed views. Aromatic eco-friendly amenities, including bath salts, are provided. In addition to soft towels in pastel colors, I use light cotton sarongs and Indian towels.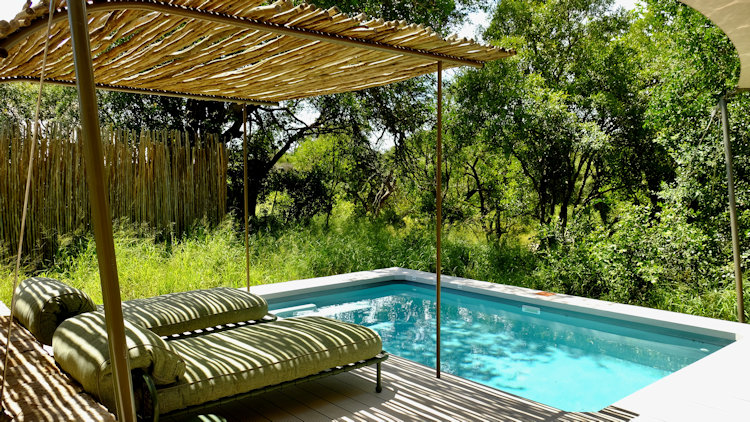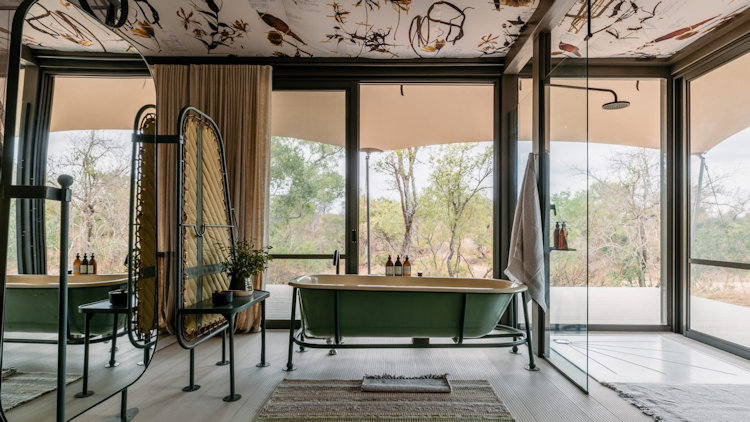 The Thornybush nature reserve borders the famous Kruger National Park. Without fences, the game has freedom of movement. I've heard of incomparable sightings of the Big Five, the most dangerous animals hunters of yesteryear face. My captain, Grant Parker, has a degree in his field, as well as a source of up-to-date information on flora and fauna. Not only do we have a quick look at the lions and leopards we find, we follow the cats in the field to observe their behavior. So that I can take unforgettable pictures, Grant carefully positions our vehicle at every sighting. He is a personable man with a great sense of humor who forges a companionable and relaxed camaraderie.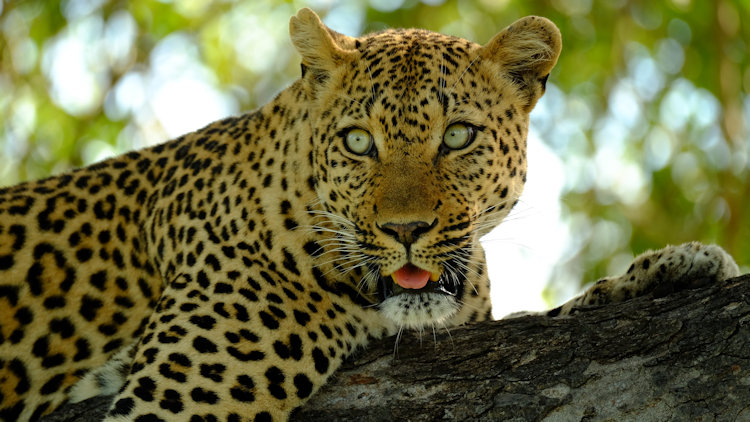 A highlight of my game drives from Saseka Tented Camp is the observation of a bull elephant with mastodonic tusks. He's in musth, so has a rich, warm smell that comes from a steady drop of urine down his hind legs. A secretion flows from his temporal gland. As one of the largest surviving tusks in Kruger, it was named and tied for surveillance purposes. He watches us, but is not concerned about our presence, and chews on the bark that he is peeling off a tree. Testosterone Laded Musth bulls are usually very irritable, restless, and aggressive, so his recklessness leads to a rare sighting.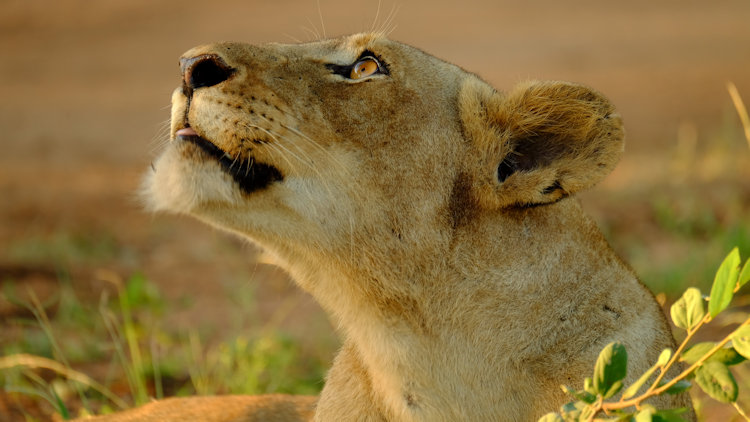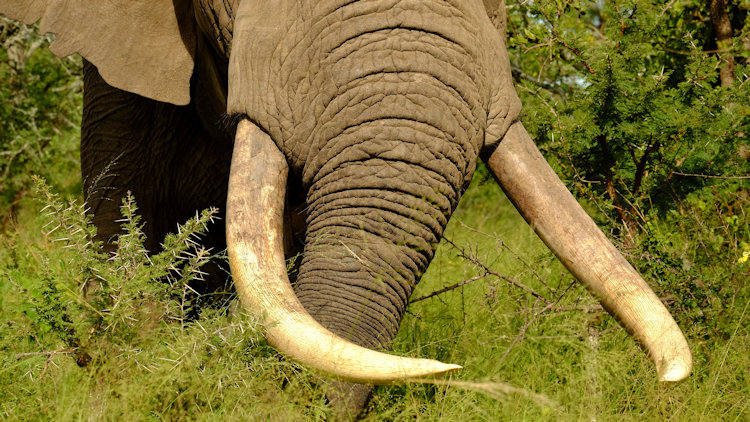 In the midst of a pack of 19 African wild dogs, we park and see that they are hyperactive and don't lie down for long. Youngsters play with each other, make rattling noises, bully a smaller dog, greet and sniff each other and roll in the grass. When two spotted hyenas attempt to sneak up on them to request remains from the killing of wild dogs, they are driven away and their flanks pinched. The wild dogs soon fan out through the bush in search of prey. We follow them to a muddy pool of water, where they quench their thirst and continue to interact noisily with each other.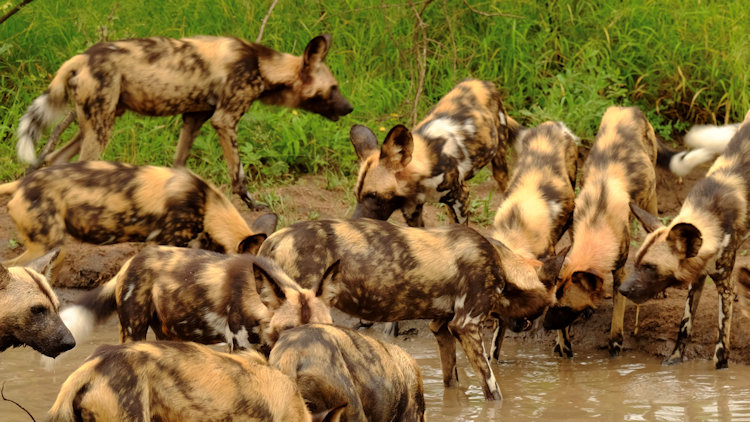 Article by Gillian McLaren (@Jetset_Gillian)
Photos by Gillian McLaren, except main photo from Lepogo Lodges
Additional Gillian Mclaren features can be found at www.gillianmclaren.blogspot.com