key events
Show key events only
Please turn on JavaScript to use this feature
TRY! Ireland 11 – 6 South Africa (Josh Van Der Flier)
46 mins It's a front ball catch and drive from Ireland that the Springboks defense set and pushes towards the touch line. The phalanx of players goes towards the corner flag and in the midst of it Van Der Flier pops the ball down over the line with his right hand while staying millimeters the right side of touch. That is as good a finish as you will see.
Sexton can't convert from way out left.
Updated at 14:54 EDT
45 mins. Ireland go a little more direct in the first phases of the half, with Gibson-Park being little busier around the ruck. They are up near the 22 before SA are offside, and Sexton has spurned the points and gone to the corner!
Vincent Koch replaces Frans Malherbe
43 mins A few scrum resets lead eventually to an Ireland penalty for reasons it's hard to determine as it looks like Bealham was hinging to me, but my view is irrelevant in my own house, never mind on this field. Sexton boots in forward and Ireland will attack in the Boks' helped.
second half!
40 mins. South Africa have the ball after Ireland clear.
Finlay Bealham is on for the injured Tadhg Furlong.
half time!
PEEEEEP! The teams head in from the cold.
PENALTY! Ireland 6 – 6 South Africa (Cheslin Kolbe)
40 mins. South Africa attack in the Ireland 22 on a penalty advantage. The attack comes to nothing as Ireland get amongst the breakdown, but Kolbe asks for the tee to level the scores as we go in for half time.
39 mins. And defend it Ireland do! James Ryan is sent up in the air in the lineout and he whips the ball back onto the Irish side for Jimmy O'Brien to clear.
Furlong is the latest to be receiving treatment in a game that has the attrition rate of Rollerball. The big man is back up though, and on we go.
37 mins A delicate grubber from Hendrikse is grabbed by Kriel before the ball is floated right, but Balacoune covers. There was an advantage being played and Ireland will have to defend a penalty on their own 5m line.
PENALTY! Ireland 6 – 3 South Africa (Johnny Sexton)
35 mins After all that, Sexton slots and easy three points from in front.
Updated at 14:27 EDT
34 mins Murray dummies and goes through a gap off the back of an Irish lineout in the South Africa half. They are into the 22 and the forwards have a go at punching some holes in the middle of the field. They are up to double figures before they go wide and are met again by the Mapimpi rush-and-clamp defence. But, the home side don't panic, keep working the ball and eventually have a penalty.
Lood De Jager is injured, replaced by Franco Mostert.
Murray has also had a knock, replaced by Jamison Gibson-Park
Updated at 14:20 EDT
32 mins Ireland have some decent phases before the ball is given up to SA and Dan Sheehan puts in a great block on an attempted Willemse clearance. Suddenly it's a foot race with Kriel and Sheehan shows he's no slouch, dribbles the ball forward over the line but can't ground it without bouncing the ball. So close to the Leinster hooker.
For all the Bok physical and territorial dominance, it's still 3-3 and the longer it goes on, the more confident Ireland should be.
Updated at 14:15 EDT
29 mins. Another ball goes down in Irish possession as they continue to work the expansive patterns that are being put under enormous pressure by the Springbok umbrella style defence. Farrell needs a word at half time to keep it a little more simple and make SA defend a bit more.
27 mins Ireland have made 78 tackles to South Africa's 36, it's been a punishing test for Irish conditioning in this opening half-hour.
It's been a bruising first helped in Dublin Photographer: Brian Lawless/PA
Updated at 14.12 EDT
Stuart McCloskey is off using his shirt as a temporary sling, and that brings on Jimmy O'Brien for his debut.
26 mins. Ireland get some territory for the first time in a while after Hansen punts a ball up into the Bok half and chases well to put them under pressure. But the following chasers are too keen and are offside allowing SA to release the pressure.
Kolbe has returned to the field as McCloskey is down receiving treatment. He would be a big loss for Ireland.
23 mins Back come the Boks, who have spent a lot of time in Ireland 22 so far, building once again from maul before De Jager is too keen and goes off his feet a the lineout.
Ireland have done nothing with the first eight minutes of the Kolbe yellow card.
MISSED PENALTY! Ireland 3 – 3 South Africa (Damian Willemse)
20 mins. Another penalty won at the breakdown following a big SA maul which Willemse tees up and absolutely spanners it about 45 meters wide right. Wow, that was awful, like he's wearing a traffic cone for a boat
18 mins. Another clever pattern from Ireland is read beautifully by Mapimpi who flies up to Keenan and rattles him into next Thursday as the ball arrives. Ireland's clearers can't get there quickly enough to prevent the Boks winning a penalty at the breakdown.
Beautiful, brutal defense from Mapimpi.
YELLOW CARD! Cheslin Kolbe (South Africa)
He's off for ten minutes after the Ref decides Hansen ends up on his back.
16 mins Ireland run an intricate pattern off the scrum that puts McCloskey through a hole before a huge pass is floated left towards Hansen. The wing can't grip it first time which allows the Bok defense to smother him, and as part of this Kolbe turns him past the horizontal and this looks very spear-tackly to me.
The Ref and TMO are having a long look.
14 mins Suspicion of a head-on-head tackle by De Allende is ignored and the Boks are all over Ireland at the breakdown. Wiese flies into Murray who takes 0.000000001 seconds too long on the ball at the base of the ruck, such are the margins in this game.
McCloskey gets revenge for his team-mate by holding Wiese up on his next carry to win a scrum; the Ulster center adds that to a strong carry earlier to cement his very good start.
12 mins Short break in play for some treatment, which is handy for the players as the intensity level has been very high so far. Every contact is all the way to 11 so far.
11 mins Ireland have a lot of ball around halfway and have some well organized phases that eventually almost get Ringrose away from a Sexton offload, but it goes behind him and when the ball is tidied up Ireland decide the kick is the right option.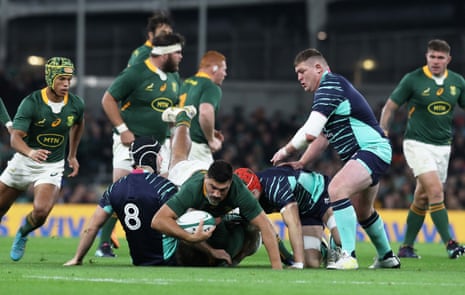 South Africa's Damian de Allende in action. Photographer: Lorraine O'Sullivan/Reuters
Updated at 13:47 EDT
PENALTY! Ireland 3 – 3 South Africa (Damian Willemse)
8 mins The attack continues to go nowhere, so Willemse pops a cross-kick to the left touchline to absolutely no-one, but the bounce is kind to Kolbe following up before Hansen tackles him in the air.
There was an advantage being played so Willemse calls the tee on and levels the scores.
6 mins. It's a catch and drive from the Springboks, but the Ireland pack do a good job of holding it still, forcing SA to move the ball wide and away. There are up to double figures in phases, but the Irish tackle line is holding firm thus far.
4 mins On a very long penalty advantage, South Africa hit a few carries up and go left towards Kolbe and Mapimpi. It comes to nothing, so the Ref Nika Amashukeli brings it all the way back to the original offence. The Boks have a line out in the Irish 22.
PENALTY! Ireland 3 – 0 South Africa (Johnny Sexton)
2 mins. South Africa are offside in defense and Sexton wastes no time in putting his side into the lead from the tee
Kick off!
1 min Cheslin Kolbe's first job as fullback is to field the Sexton kick off, and he claims it and boots to touch with 0% nonsense
The teams are in the tunnel, lined up side by side. There's a lot of talk about the kits clashing, but I can't tell how big an issue it is as both sides have their tracksuits on.
They make their way out for the anthems.
Reading while you wait
Talk to me!
It's a busy old day of rugby, let me have your thought on all of it on email or tweet @bloodandmud
teams
Andy Farrell has rewarded Robert Balacoune's contribution to Ulster's early season form by selecting him on the wing, and an injury to Robbie Henshaw means the wide man with have his club colleague Stuart McCloskey in the backs with him. Elsewhere is so very familiar for the home team.
The opposite of familiar is Jacques Nienaber's decision to select Cheslin Kolbe at fullback, where his unique gifts can perhaps be given more freedom to cause havoc. Expect Sexton to test his basics under the high ball early and often.
Ireland: 15 Hugo Keenan, 14 Robert Baloucoune, 13 Garry Ringrose, 12 Stuart McCloskey, 11 Mack Hansen, 10 Johnny Sexton (captain), 9 Conor Murray, 8 Caelan Doris, 7 Josh van der Flier, 6 Peter O'Mahony, 5 James Ryan , 4 Tadhg Beirne, 3 Tadhg Furlong, 2 Dan Sheehan, 1 Andrew Porter.
replacements: 16 Rob Herring, 17 Cian Healy, 18 Finlay Bealham, 19 Kieran Treadwell, 20 Jack Conan, 21 Jamison Gibson Park, 22 Joey Carbery, 23 Jimmy O'Brien.
South Africa: 15 Cheslin Kolbe, 14 Kurt-Lee Arendse, 13 Jesse Kriel, 12 Damian de Allende, 11 Makazole Mapimpi, 10 Damian Willemse, 9 Jaden Hendrikse, , 8 Jasper Wiese, 7 Pieter-Steph du Toit, 6 Siya Kolisi (captain), 5 Lood de Jager 4 Eben Etzebeth 3 Frans Malherbe 2 Malcolm Marx 1 Steven Kitshoff.
replacements: 16 Mbongeni Mbonambi, 17 Ox Nche, 18 Vincent Koch, 19 Franco Mostert, 20 Deon Fourie, 21 Albertus Smith, 22 Francois de Klerk, 23 Willie le Roux.
preamble
It's Dublin, it's Saturday evening and it's two of the top three sides in the world going at it a year out from meeting in their Rugby World Cup pool in France.
Much talk coming into the match about the import of this tie ahead of the above, but the coaches will simply want to win today because it's a game of international rugby and frankly any result today means absolutely sod all in relation to the World Cup. However, what will matter in this the start of the 12-month run-in, is how well some of the newer players and combinations for both sides go at this level. This is where Farrell's and Nienaber's eyes and attention will be drawn.
After narrowly missing out on the Six Nations title, Ireland had an historic 2022 with their claiming of their first ever series with in Aotearoa. They will bring confidence from this and their as usual impressive domestic form in this match. South Africa's year has been less impressive, but they arrive today off the back of three wins.
Expect a tight affair, Autumn games involving the Boks are often decided by a score and they will offer more challenges to Ireland that the All Blacks did a few months back.