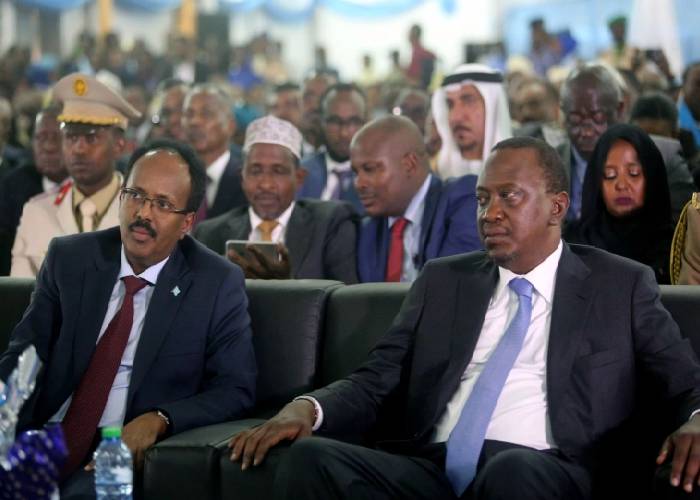 President Uhuru Kenyatta (right) with Somalia's President Mohamed Farmaajo on a past function. [Reuters]
Kenya will reopen its embassy in Somalia after Nairobi and Mogadishu resolved a diplomatic standoff between the two nations.
In a statement by The Standard on Monday June 14, the State Department announced that the Ambassador of the Federal Government of the Republic of Somalia to Kenya had also been invited to return to Nairobi.
"The Kenyan government welcomes and takes note of the invitation from the Federal Government of the Republic of Somalia to restore diplomatic relations between the two countries," said a statement by the Foreign Ministry.
Kenya said in the statement it will use recent talks to repair its ties with Somalia.
"The Foreign Office will take this opportunity to once again express its highest respect for the Ministry of Foreign Affairs and International Cooperation of the Federal Republic of Somalia," the statement said.
On June 10, Kenya lifted its ban on direct flights to and from Somalia, which should last at least until August 9, in order to thaw the diplomatic dispute between the two nations.
Nairobi said the decision to resume operations from the Horn of Africa was part of Kenya's efforts to reestablish frosty relations with Somalia since December last year.
"This goodwill measure was taken in the mutual interest of the two countries and in the hope that it would lead to a full normalization of bilateral relations between Kenya and Somalia, including diplomatic, trade and people-related links that have been unduly encumbered," said the note.
In response, Somalia issued a diplomatic note recognizing Kenya's "goodwill gesture" to reopen airspace for Somalia flights.
"This is an important step towards improving bilateral trade, communication and citizenship between the two countries," the letter said.
Mogadishu said the Nairobi "positive gesture" was a starting point for negotiations aimed at a full normalization of diplomatic relations between the two nations.
Somalia expelled the Kenyan ambassador in November 2020 and recalled his ambassador from Nairobi in the recent dispute between the two African countries.
This is not the first time tensions have risen between Mogadishu and Nairobi.
In 2019, Kenya recalled its ambassador to Somalia after a maritime territorial dispute between the two countries.
Remotely monitor water pumps through your phone
Tracking and monitoring motor vehicles is not new to Kenyans. The competition to install affordable tracking devices is fierce, but essential for fleet managers who receive reports online and track vehicles from the comfort of their desks.