Malcolm Marx is late to help South Africa defeat Wales in thriller | Autumn internationals
They estimate it has been a long 24 hours for South Africans in Cardiff, long enough to enjoy a selection of the city's delights, freezing cold weather, torrential rain, and not just one but two night's fire alarms at their hotel, one at 3 In the morning, which left them standing on the street for a good 20 minutes mingling with Cardiff's Friday night life, and then, because it was so much fun, another at 7:20 am. And then, to top it off, they had a brutal 80-minute stake with a Welsh team that was completely unrecognizable by the crowd that dumped 54 points against the All Blacks last week.
It was a hell of a game. There were two yellow cards, one try that didn't, and a cameo of a pitch invader and security guard getting in Liam Williams' way as he approached the Springbok tryline. Williams hopped around her, but the distraction cost him precious fractions of a second. Wayne Pivac was phlegmatic about this. "You don't want to see that in the game, very disappointing, but there is nothing the match officials can do about it," said Pivac. "I don't know if we would have scored. We just saw a two-on-one and thought, 'Well, let's go.' "
As for the villain, the stadium manager stated: "He was intercepted and immediately escorted out of the stadium and handed over to the South Wales Police." No doubt he was going to have a long night ahead of him. After all, the springboks won with all their bruises.
It was on the balance sheet up to the 12th round. The Springboks were sure they'd made it when Makazole Mapimpi jumped over the line to end what looked like a long try, sparked by a surprise break from Cobus Reinach in the 70th minute. But while Elton Jantjies was still pending the renovation, the television broadcast showed that several of their players had been sidelined during the setup. Minutes later they were really done when Malcolm Marx came over from a lineout ride. Jantjies missed the conversion but landed a penalty with the final shot to end it.
It was South Africa's first win here since 2013. Wales had won five of the last seven games between the teams. Of course that was Warren Gatland's team, Pivac's team is a different beast, and they missed their captain Alun Wyn Jones and a handful of other senior players. It hardly showed up. It turned out that there is a lot of the old blood and guts in Pivac's young team too. Ellis Jenkins, who was back on the team after a three-year injury break, was particularly good. He was key in the first few minutes when Wales was tossed in a storm. Whatever it did, those two early morning wake-up calls didn't seem to have much to do with the mood of the South Africans.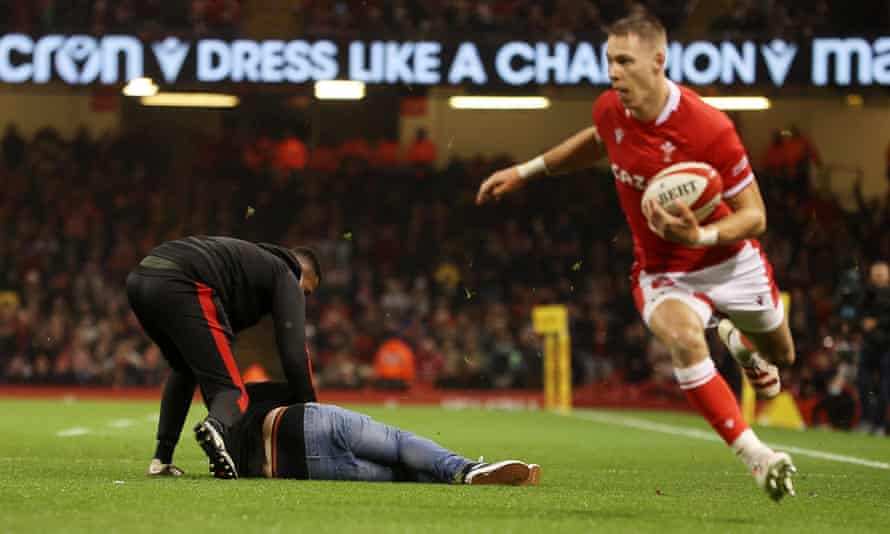 Liam Williams has to bypass a pitch invader and steward. Photo: Chris Fairweather / Huw Evans / Shutterstock
But the Welsh rallied after Jenkins made crucial sales. It also helped get her lineout working again. One led to a chance after Dan Biggar Jenkins threw a long pass in space on the right wing, shoveling it at Louis Rees-Zammit, who was dragged to the ground by Siya Kolisi a split second before crossing the line. Rees-Zammit had a second chance shortly thereafter when Biggar whistled a high cross into the right corner, but the ball burst through his fingertips as he bounced for it. It was Wales' best chance at half time.
If the line-up was correct, the crowd still did not work and was a source of penalties for visitors. Fortunately for Wales, South Africa also missed a lot, seven penalties in the first 30 minutes alone. The referee said that was one too many and sent Ox Nché to the sin box for obstruction. Wales' one-man lead was short-lived, with Rhys Carre receiving a yellow card as he came into the scrum from the side. Worse, South Africa started playing some of its best stuff when there were only 14 men. Handré Pollard almost got Mapimpi through with a cultivator.
The Breakdown: Sign up and receive our weekly rugby union email.
But there was always the imminent threat of a replacement for South Africa. The difference between the two teams seemed most obvious when you looked at the men on the benches. The Welshman had two debutants among his substitute strikers and two more with just a handful of internationals. The South Africans, on the other hand, were a gnarled old bunch, Marx, Steven Kitshoff, Vincent Koch, Franco Mostert, men who had made a significant contribution to the 2019 World Cup victory.
It was a sign of how well Wales were playing that South Africa freaked out early, bringing in Marx, Kitshoff and Koch five minutes into the second half. In the minutes that followed, they hit the Welsh line hard, 14 phases, all in the Welsh 22, but the hosts held, won a turnover and, better yet, a penalty kick back. This lead was not permanent either. François Steyn shot a five-yard penalty in his own half, then Pollard added another. That made the score at 15-15 with 20 minutes of play. And while Biggar was still taking a penalty, as Jenkins said afterwards: "South Africa was just too good at turning the screws on us in those last few moments."