The Nairobi Metropolitan Services (NMS) has partnered with the Kenya Railways to ferry passengers around the Central Business District (CBD).
NMS, on Wednesday, March 23 announced that Kenya Railways will offer a number of its buses to ferry pedestrians from various sections of the CBD to the Green Park Bus terminal.
The buses will fill the gap between the terminals and the CBD streets in what is commonly known as the last mile connectivity.
Notably, priority will be given to vulnerable groups such as expectant mothers and people with disabilities.
Green Park Terminus at the Old Railways Club in Nairobi
Files
"Kenya Railways Buses will ferry passengers between CBD and the Green Park Bus Terminal. Precedence to be given to priority groups including the elderly, persons with disabilities (PWDs) and expectant mothers," the statement read in part.
The buses will be available at designated spots within the CBD. NMS and Kenya Railways will issue further communication on whether passengers pay for the transportation.
NMS's announcement comes amid complaints by Nairobi residents who protested having to walk long distances to and from the bus terminus adjacent to Uhuru Park during previous test run exercises.
The agency declared that the Green Park terminus, established to ease congestion in the city, is nearing completion and is set to be open soon.
It further issued rules and regulations for passengers and matatus. The picking and dropping off of passengers will only be done at designated berths.
Passenger service vehicles (PSVs) will be required to strictly adhere to the berths which will be labeled according to the routes.
"No picking or dropping passengers at non-designated places including the entire stretch of the exit road," NMS announced.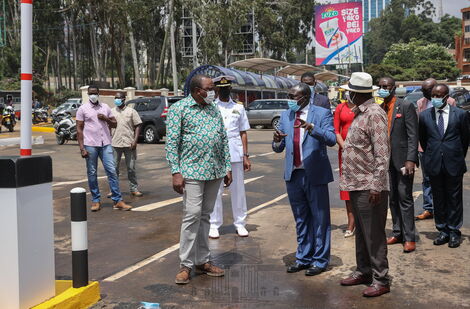 President Uhuru Kenyatta (in green shirt) and former Prime Minister Raila Odinga (in a brown shirt) at Green Park Terminus on Thursday, April 1, 2021.
PSCU
In addition, matatus accessing the terminus were limited to three per SACCO with the time capped at 20 minutes per vehicle. Staff will wear dawn uniforms and have badges when on duty.
Notably, express vehicles may be exempted from queuing upon receiving clearance from the management. To ensure full compliance, two officials will be posted to support operations at each terminal.