'Oath was very different': My fortnightly observations of South Africa sinking into chaos | Global development
The last week was one of the most difficult of my life. My home sank into chaos. A resort town with a melting pot of cultures and a multitude of people who live and work here, Durban came to a standstill when rioters took to the streets to wreak havoc following the arrest of former President Jacob Zuma.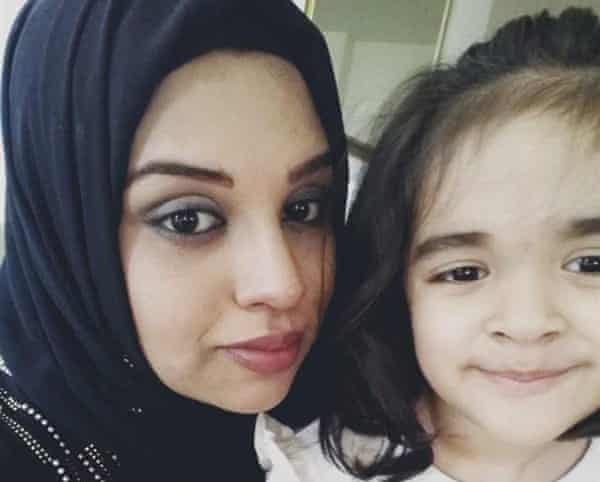 "I looked at my own child and couldn't help but think about exit strategies," says Fernaaz Hussain. Photo: Handout
The riots began on Thursday, July 8th in the KwaZulu-Natal region and brought everything to a standstill. We left work early to be with our families. Protests usually take place in the central district of Durban, but images of looting and rioting circulated on Saturday night. As a precaution we stayed home. On Sunday the city was on high alert and trucks were looted and set on fire on the highways into Durban. We expected more Covid lockdown restrictions as the number of cases rises in South Africa, but instead we were isolated by violence. I woke up Monday morning to the gunshots, alarms, and screams. It was surreal; I sat up and thought where am I?
By Tuesday the violence had intensified and was drawing closer. It wasn't just about raiding supermarkets; they looted everything, including houses.
Communities began to set up neighborhood watch groups. Workers were urged to stay home for their safety as the riots spread to residential areas. Roadblocks were erected as people used whatever material they could find to barricade the raiders and formed groups to patrol on the cold winter nights.
My friend lost two of her businesses in a matter of hours. As a single mother of three children, her income suddenly came to a standstill
Families ran out of supplies, with some venturing into stores to buy bread, milk, and baby items such as diapers. But large shopping malls were attacked, looted and destroyed. My friend lost two of her businesses in a matter of hours, and as a single mother of three, her income came to an abrupt halt. My colleague Portia ran out of milk for her baby – the fear of mothers was heartbreaking.
As an employee of the world's largest Muslim NGO, I kept thinking of our brothers and sisters in Syria, Yemen and Gaza. They too awoke to a life forever changed one day, and their suffering has not ceased. Is that going to happen to South Africa? This experience strengthened my empathy for people who live in conflict areas and flee from them. The fear is real.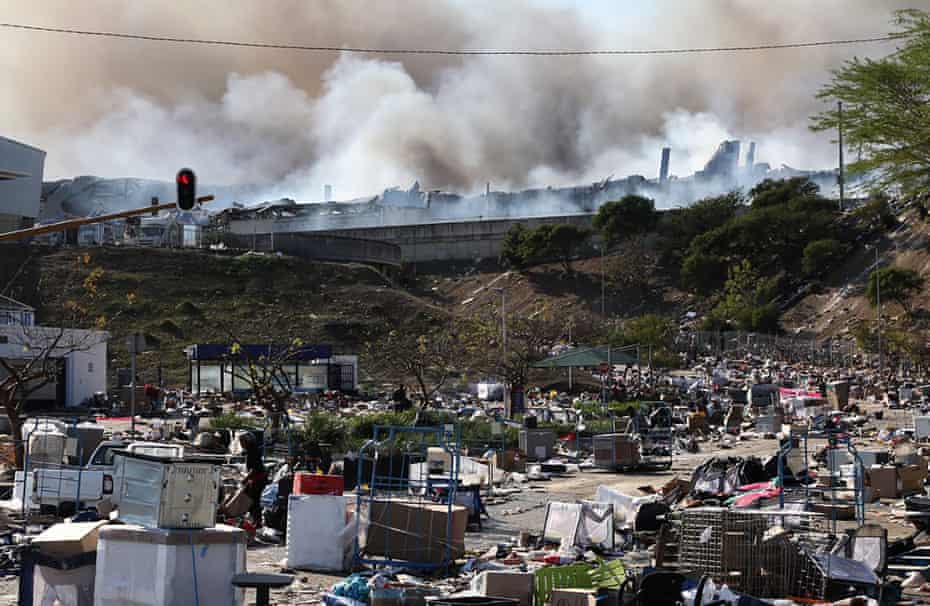 A factory burns in the background, while empty boxes litter the street where looted goods are being transported away. Photo: AP
I looked at my own child and parents and couldn't help but think about exit strategies. Where would they go and how would I get them there? The days of destruction felt like they didn't want to end, everything we loved about this city in ruins, our houses under siege.
We ran out of fuel on Wednesday. People had money to buy food, but the shelves were empty.
Our community came together stronger than ever that I can remember. Community leaders began bringing milk and bread to residential areas and distributing them for free to anyone who approached them. We started coming out in numbers.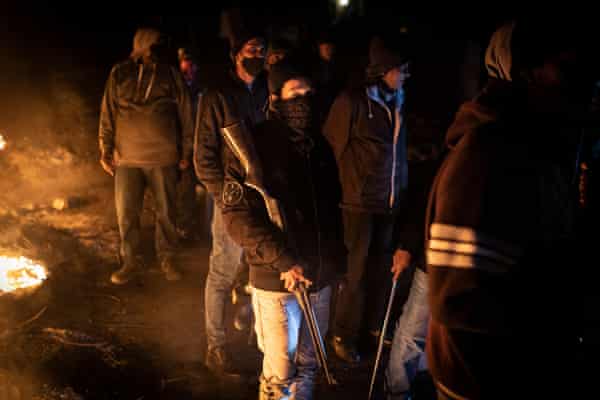 "Men patrolling the streets with hockey sticks and cricket bats became the norm." Photo: Guillem Sartorio / AFP / Getty
Men patrolling the streets with hockey sticks and cricket bats became the norm. If they met a looter, they let them pass but made sure they left the area. The communities worked to protect their areas from harm and violence. I'm someone who had never heard of a gun, but now I was able to identify the different types of shots and the guns they were fired from. When the shooting stopped we were stunned. Is this really happening? It is over?
The festival of Eid al-Adha was very different for me this year. The violence has decreased significantly thanks to the combined efforts of community patrols, the army and police, but the mood is gloomy and our thoughts stay with those affected by the looting and violence. A sadness remains; Our communities have lost significant leaders to the coronavirus this year, and the riots have affected hundreds of businesses just as we begin rebuilding.
We came out to take back and rebuild our roads. South Africans put that in a nutshell – we emerged stronger from these unrest
The glimmer of hope during this unrest was the resilience of the South African people. We came together and said, "Enough is enough"; We came out to take back and rebuild our roads. That's South Africans in a nutshell – a people who survived apartheid and broke the chains of racism and inequality – and we are emerging stronger from this unrest.
I am proud to work for Islamic Relief; In the run-up to our Eid Food campaign, we continued to work from home and our managers checked our well-being.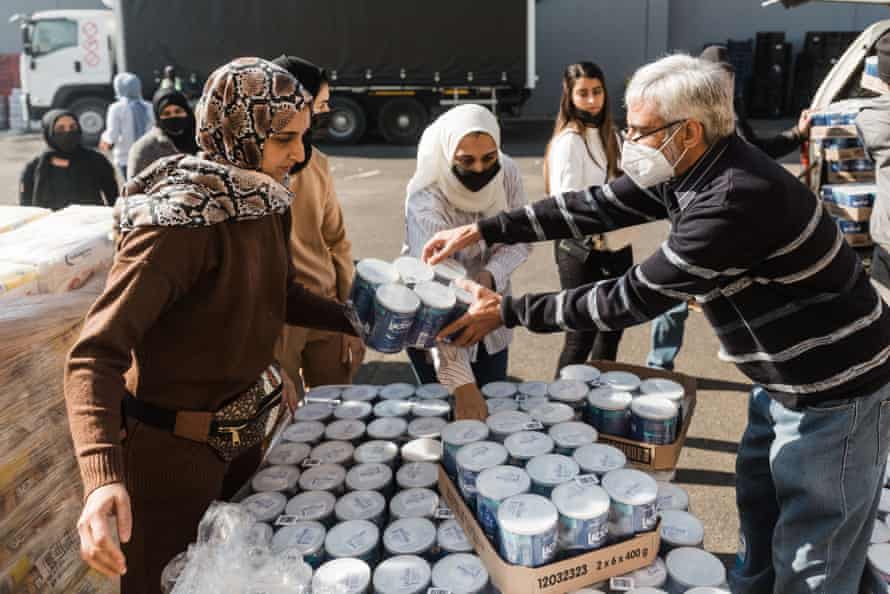 Muslims For Humanity volunteers are packing baby food for distribution in Durban. Hussain says the mood was "gloomy". Photo: Rajesh Jantilal / AFP / Getty
There was an urge between us to answer the calls for help. We had numerous calls for help from affected communities and just as many requests from people who wanted to help. Our teams started sending help from other regions. Our fear turned into bravery.
As soon as the aid came, we started responding to the food crisis. The team also had to advance our Eid Qurbani distribution program in KwaZulu-Natal, which provides fresh meat to 900 families, including nearly 400 orphans. Meat is important to Eid al-Adha as it is a reminder of the moment when the Prophet Ibrahim satisfied Allah with his intention to sacrifice his son Ismail, and Allah stayed his hand and replaced the boy with a sheep.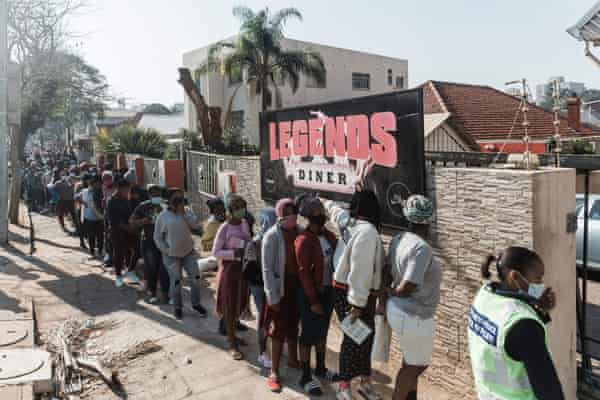 People queue for groceries and baby items distributed by Muslims For Humanity at Legends Diner, KwaZulu-Natal. Photo: Rajesh Jantilal / AFP / Getty
Covid has already deepened the poverty line and now the unrest. People who have already been poor have become even poorer. Those living from paycheck to paycheck found that his job was done overnight and there was no support. So many people were already in fear of abject poverty, and then that. So much destruction for this beautiful country that I love.
This oath was a time for reflection. But the next day employees and volunteers were on the job, packing baskets for our community.
The days are long and hard, but there is hope in its people for a stronger South Africa, for us and our children.