Siya Kolisi: Stormers confirm South African World Cup captain who won the World Cup has been fired from his contract with Rugby Union News
Siya Kolisi led South Africa to the world title in Japan in November 2019. The flanker has represented the Stormers in 118 super rugby games, behind Schalk Burger (123) in second place on the all-time franchise list
From Reuters
Last updated: 02/14/21 1:21 PM
Siya Kolisi is the Stormers' second tallest player of all time
World Cup captain Siya Kolisi has finished his 11 year stint with the Stormers in South Africa and is expected to be revealed by the Durban-based Sharks next week.
The move was long debated, and Western Provincial rugby confirmed on Sunday that they prematurely released Kolisi from his contract, which was due to expire in late October, after accepting a transfer fee from an undisclosed team.
The loose striker is the team's second best player in Super Rugby with 118 appearances, just behind Schalk Burger (123), although the Cape Town-based team and the Sharks will compete in the European PRO14 competition from 2021.
Skilled the Springboks in their 2019 Rugby World Cup triumph, Kolisi, 29, is a hugely popular figure in the country with a history that extends from rags to riches.
His move to Durban came after a 51 percent stake in the Sharks was acquired by a US consortium, MVM Holdings, led by South African-born New York lawyer Marco Masotti.
Erasmus: SA does not want to miss out on Lions series
South African rugby director Rassie Erasmus insists that the Springboks will do whatever it takes to make the UK and Irish Lions series a reality.
The coronavirus pandemic has cast doubt on the tour's original schedule. Three contingency plans are under review if they are not expected to take place in full stadiums in South Africa.
The options under consideration are to move them to next year, host them in the UK and Ireland, or keep the existing itinerary but hold the games behind closed doors.
Erasmus, the coach of the Springboks who won the World Cup in 2019, is open to all eventualities as long as the event actually takes place.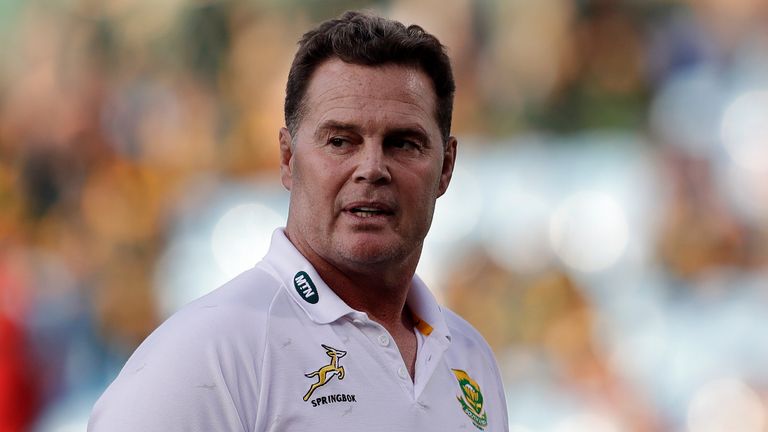 Rassie Erasmus says the Springboks are ready to go to "Option Z" to make the Lions tour possible
"We really want to play the Lions and we will do everything we can to play them," he said at an online press conference last month.
"This series only comes every 12 years. I've heard the different views and opinions about the tour and while we didn't play in the rugby championship for the wellbeing of the players, it was because we knew it this big series there. " 2021.
"If the first option of playing in South Africa doesn't work, we'll go to Option Z to make it happen."
"We don't want to lose the Lions series, we feel we deserve to play against them. I want, (head coach) Jacques Nienaber wants, the players want. So on our part we will." something.
"But yeah, we will look at every option to play the Lions – we will play next year, we will play there. That is the view from the players' and management's point of view."
Discussions on the eight-member Lions board of directors are ongoing, and a decision will be made this month.