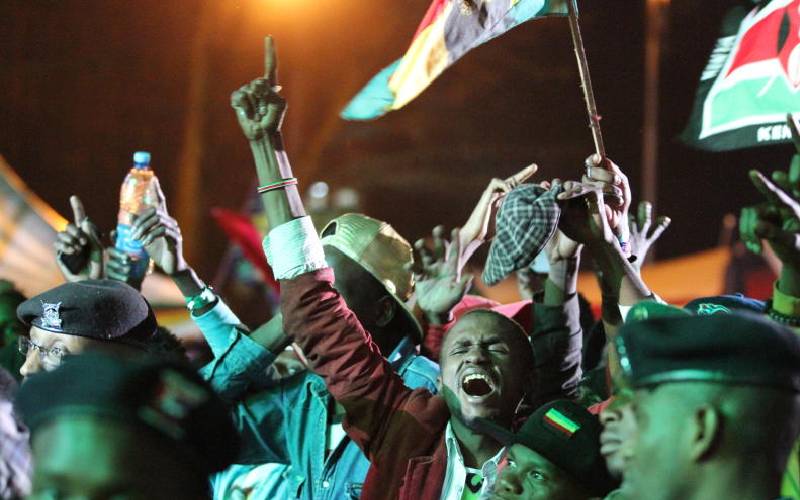 Reggae Peace concert at KICC on July 29, 2017. [Edward Kiplimo,Standard].
The harmony blends with vocals and instruments fuse together so well one would not tell this recording was done by different artists in different countries at different times.
The song is a peace cry, a unity call initiated in Jamaica but dedicated to Kenya.
"Oh I lift up my hands to Kenya, so the love will grow. Kenya puts food on my table, and blessings in my heart and soul. Oh Kenya we love you so. Oh, Kenya we need you so," Jamaican reggae singer, songwriter and record producer Kevin Anthony Jackson (Sanchez) before making a rallying call "sing-along".
"Kenya ni moja," the refrain goes, as a groovy reggae tune and drums blend to create a masterpiece of a song.
Shauna McKenzie, known by her stage name Etana, took the cue.
She calls for peace and unity, and condemns tribalism and selfishness.
The collaboration song, Kenya ni Moja will be released on June 1.
Aside from Sanchez and Etana, it features H_art the Band, Nazizi, Shamir and Juma Tutu.
It is a masterpiece aimed at bringing Kenyans together during this election period.
With the idea to write a song having been mooed about five months ago, the Jamaicans Sanchez and Etana teamed up with Kenyans and will release the song ahead of a planned peace concert to be held next week.
"I am excited about this project, as it is not only a song but a prayer for my country Kenya," said Jamaica-based Kenyan producer The Kenyan Don.
"Elections and campaigns come with lots of tensions all over the country. This song will unify the people and bring peace. Let us preach peace."
Created boundaries
The recording also involved veteran singer and producer Juma Tutu.
Initially, the organizers of this project had indicated that they would include Jamaican star Eric Donaldson in a tour christened Umoja Splash Peace Tour that is likely to start in Kisumu next weekend.
"The past two elections have stretched our faith as Kenyans. They created boundaries and divided us between tribal lines, and stopped us from celebrating our diversity," said the organizers.
"Through this tour, we intend to preach and promote peace. We want to give Kenyans an unforgettable experience and also inculcate in them the spirit of oneness."
Speaking to us on phone from Jamaica, The Kenyan Don said cultural ties between Jamaica and Kenya were deep.
"We are glad to be part of this massive campaign that is meant to unite Kenyans and rally the youth towards creating a cohesive country devoid of ethical divisions," he said.
"The plan is to create that mood as early as now ahead of the voting in August. From then, we will have a peace tour across Kenya, one that will be getting Kenyans together after the elections."
Campaign songs
Nazizi said all the artists volunteered in the project, and that she is ready to rally more to join the tour.
"This project happened seamlessly. Adonai (The Kenyan Don) sent me the track as he did to Etana and the rest. What I liked about the song is the fact that politicians have their own campaign songs, but none of them is thinking of Kenya as a country," Nazizi said.
"They are not keen on uniting Kenyans in case of violence that would come out of political divisions. This song is a call for unity. It sends a strong message that Kenya is not about politicians. We are one country, one people."
H_Art the Band said music is a universal language that unites and heals and that their style has attracted a lot of following from the youth across the country.
"Because of our popularity, we are glad to join the peace tour once it starts. Besides, we are calling upon Kenyans to tolerate and understand each other during this campaigning period," H_Art the Band said.
"We urge the youth not to be used by selfish politicians to cause enmity. Let's look at the bigger picture; that of having a united and prosperous country after all is said and done."
Mental health among teens

It is easily assumed that children and adolescents do not go through devastating issues since they have fewer responsibilities than adults.